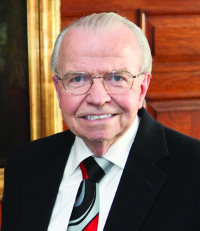 Information School alumnus John Cole discussed his long, distinguished career in the latest issue of Library of Congress magazine.
Cole, a 1966 graduate of what was then the University of Washington School of Librarianship, has served in leadership roles during his 50-year career with the Library of Congress. He was the founding director of its Center for the Book, which was created by a 1977 law, and is the author of several books about the institution. He has played a key role in the library's National Book Festival, which attracts more than 80,000 visitors, and chairs its Literacy Award program. Cole was named to a new role as Library of Congress historian in 2016.
In the magazine, Cole spoke about how his career began and what led him to his current role.
"Somewhere along the line, [former Deputy Librarian] David Mao noticed that the Library had no official historian. I had always been kind of an unofficial historian, but David thought it was time to change that," Cole said.