Editor's Note: The iSchool was heartbroken to hear of the unexpected passing of MSIM alumnus Del Hazeley on Oct. 16. Shortly before he died, he spoke with us for an alumni profile and viewed the story that follows. We are sharing it with the approval of his colleagues at the UW Police Department to honor Del's memory, as he had such a lasting impact on faculty, staff, students and alumni across campus.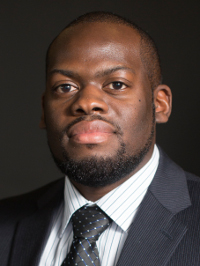 A Master of Science in Information Management degree can take you to unexpected places. 
Del Hazeley did not expect to be fighting crime, but that's all in a day's work at the University of Washington Police Department, where he was recently promoted to director of strategy and organizational excellence.
While he's not a law enforcement officer, Hazeley works to promote public safety by analyzing the data and looking for patterns upon which the police can act. For example, knowing that thieves tend to feast on laptops and phones at the beginning of fall quarter, the UWPD ran an awareness campaign to encourage people to be on the lookout.
"We have the ability to really target what's going to come and preemptively mitigate it, rather than wait until it happens," he said. "That's a strategy part of it that I really love, is getting to determine the types of programs and tactics we need."
Making good use of data is just one aspect of a job that has Hazeley overseeing the UWPD's information technology department, communications and records department, and security services and risk mitigation department, along with the police's strategic initiatives and external relations.
Hazeley joined the UWPD as its assistant technical services manager in 2012 while he was still working on his master's in the Mid-Career MSIM program. He thought his next stop might be at one of the Puget Sound region's big tech employers, but a chance encounter with the police chief at a UW event changed his career trajectory. The two met again later, and Hazeley didn't realize at first that he was being recruited for a job.
"Like the third meeting, we went to lunch and he said, 'Why don't you send over your resume?' And it finally hit me that he was looking at me for this role," Hazeley said.
When he began working at UWPD, he oversaw the police department's IT, communications and records departments. He completed his MSIM in 2013, and it wasn't long before the project management skills he built in the program proved to be useful at his workplace. The UWPD was constructing its new building, and Hazeley was tapped to work as a technical project manager in 2015. He spent a year leading the technical implementation for the new building and solving problems as they arose. He said his experience at the iSchool helped prepare him to wear many hats.
"The great thing about the MSIM degree is it prepares you for a lot of different roles, whether they're in technology or not," Hazeley said. "It boils down to information management, how you receive it, how you disseminate it, what you do with it when you have it."
In his current role, Hazeley juggles multiple roles, both behind the scenes and as one of the public faces of the police department. On a given day, he might strategize ways to prevent cyberattacks, gather feedback from custodians, or talk to student leaders. He might even be the one hitting "send" on a campus safety message through the UW Alert system.
"Because of the nature of it, where you're responding to crisis, you literally never know what you're going to have to deal with on any given day," he said. "That makes it a very interesting job – there's never a dull day."
Members of the 2013 MSIM cohort have set up a GoFundMe page to help support Del's family. To make a gift in Del's memory, go to tinyurl.com/delhazeley.