When Christy Pham graduated from the iSchool with a degree in Informatics, her parents proudly cheered.
"My parents aren't native English speakers, so they didn't necessarily understand the whole ceremony," Pham said. "But I heard them cheering when my name was called. It was very special."
It was an exciting moment for Pham, made more so because Pham is one of the first in her family to attend college.
Pham's parents, who grew up in Vietnam, were only able to attend school through third grade. Her parents immigrated to the United States, her father in 1986 and her mother in 1993. Pham was born in the U.S. and grew up in Seattle, and her parents encouraged her to attend college.
Pham said that while college was exciting and fulfilling, it also brought up emotions she wasn't expecting, including guilt. She wrote about her experience for the Seattle Times Education Lab's Student Voices program.
"While I got to sit in classes all day, my parents had to stand at work doing manual labor," Pham wrote. "While I pursued a technology degree, my parents had to overcome their technological illiteracy. … No matter how often I reminded myself that my parents wanted me to go to college, I couldn't shake the feeling that I was nonetheless experiencing things they never would."
Pham said the experience of writing the column was powerful. She appreciated the chance to work with an editor and put into words the conflicted emotions she experienced as a first-generation college student. And she received a powerful response.
"I was blown away by the reaction I received," Pham said. "I had never spoken about my guilt with anyone. I received so many comments from friends and strangers alike about how they could relate. They appreciated my putting into words what they were also feeling."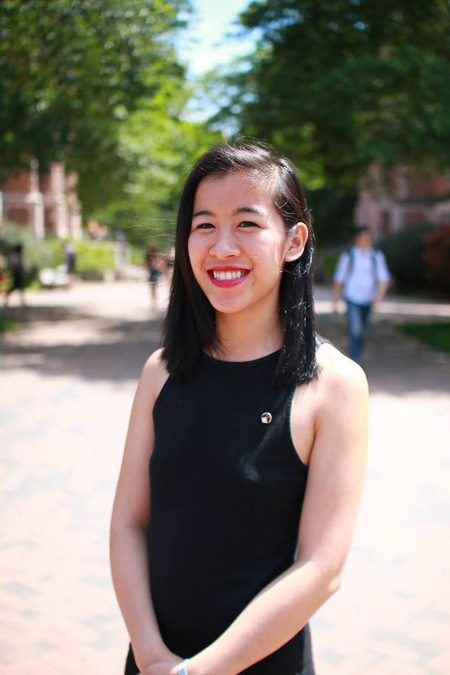 Being a first-generation college student came with its own unique challenges, Pham said. The whole process, including navigating the application process for the university and applying for financial aid, was completely new to her and her family. Then, once she was at the university, she had to choose a degree, apply for internships and learn how to network. Support from the counselors with the Educational Opportunity Program, which supports underrepresented ethnic minority, economically disadvantaged, and first-generation college students, helped her make her way through the system.
Pham found it difficult to express her experiences to her family. Part of that was a language barrier. They don't speak English fluently, and she lost some of her Vietnamese skills when she was immersed in an English-based education system. She felt a distance growing between them. She found it hard to communicate her experiences at the university to them. Even explaining what she was studying, Informatics, was a challenge.
Pham chose the University of Washington, rather than an out-of-state college, to save money and stay closer to her family. When she made that choice, she wondered whether she'd be missing out on new experiences by not moving farther away. She soon learned, however, that she wasn't missing out.
"It was a completely different world at the university," she said. "There were so many amazing opportunities. I don't regret it at all."
Originally, Pham planned to study journalism at the UW and spent a quarter writing for The Daily. However, she took a programming class and was immediately intrigued. She went to an academic counselor and asked about tech programs at the university. That led her to the iSchool, where she fell in love with Informatics.
"I loved the focus on solving problems for real people using technology," she said.
She enjoyed the interdisciplinary elements of the iSchool, the chance to take tech, design, and ethics courses. She decided to study Informatics with a focus on human-computer interaction. She liked the focus on people in the courses she took and appreciated the time to really explore the different elements of how people and technology intersect.
She also found a welcoming environment.
"I think the iSchool is committed to making students from different backgrounds feel comfortable and succeed," she said.
Pham said that one of the highlights of her time at the iSchool was her Capstone project, which focused on people and the power of stories. Pham and her team created a storytelling platform for survivors of abuse or sexual assault for API Chaya, a nonprofit that serves Asian and Pacific Islander communities.
Now that she's graduated, Pham has had time to reconnect with her family. She recently returned from a three-week trip to Vietnam with her mother and sister. For her and her sister, it was their first visit to the country; for her mother, it was her first trip there in seven years.
"It was really humbling, being able to see where my parents grew up and meet my family," she said. "I got to see how my cousins live their lives. It highlighted the differences in privileges and opportunities I had in my life. At the same time, I came to appreciate my culture even more. They really value family and tradition and that was really beautiful to see."
Pham is continuing to spend time with her family and reconnect while she looks for the perfect job. She hopes to find a position as a UX writer or a content strategist. And in the future, she hopes to come back to the iSchool, this time as a mentor for other students who might be facing their own challenges as they enter a whole new world.