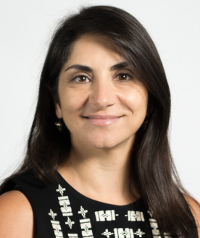 A project led by iSchool Associate Professor Hala Annabi is among five winners of the University of Washington Population Health Initiative's inaugural research grants.
Annabi, along with Jill Locke of the Department of Speech and Hearing Sciences and Gary Stobbe of the Department of Neurology, was awarded $50,000 to research "PREP for IT," a program to help prepare young people with autism to land information technology jobs and succeed in the workplace.
Based on their talent levels, young people with autism have lower-than-expected employment rates, Annabi said. Only 58 percent of them are employed, compared with 99 percent of young adults without disabilities. Studies attribute their struggles to social aspects of employment rather than an inability to do the job.
The project seeks to design, deploy and assess a workforce preparation program for students with autism at the UW who are pursuing IT careers. It will include workshops, mentoring, job shadowing, company visits and coaching, all in an effort to improve their success rates.
"Our goal is to empower UW students with autism who are pursuing IT careers to define their professional path and have the tools to excel in the IT workplace," she said.
The project focuses on IT careers because a high proportion – 16 percent – of young adults with autism choose IT-related majors. However, the research could prove useful in a broad range of careers, Annabi said. She and her project partners plan to begin recruiting about a half-dozen students this fall, with the intention of seeing the project grow over the next few years with additional funding.
"Our long-term goal is for PREP for IT to be a model for preparation programs for students with autism in all majors," Annabi said.