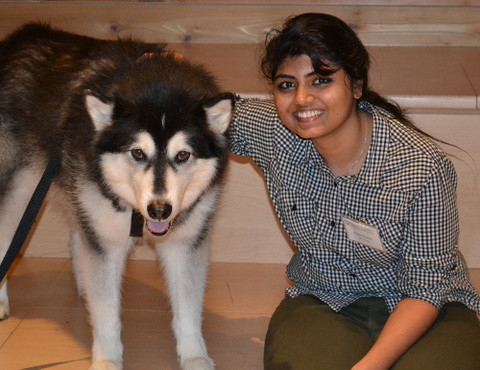 Janani Kumar was already a Nike fan before she applied for its summer internship program. That, along with her undergraduate degree in computer science and courses in her Master of Science in Information Management (MSIM) program landed her the 10-week internship at Nike's Beaverton headquarters.
"I was always a fan of the brand and what they stood for," says Kumar. "During the interview process they asked me about my favorite Nike campaign, Nike athlete and what I thought about the direction of the company."
Kumar, a full-time MSIM student, worked in the Global Consumer Knowledge Engineering department of Nike Digital, keeping track of all of the data produced when someone clicks on Nike.com or any of the company's consumer mobile applications such as Nike+ Run Club and Nike SNKRS.
The job required Kumar to use the Hadoop platform, write Python code and write SQL queries to track users' interests and provide the data to the reporting and analytics teams. She worked on the entire process - from the initial data generated by the clicks to compiling the results into accessible tables that were live in the Nike production environment.
Kumar's first project was to compile Nike users' data coming from any new source into Nike's 'Big Data' analytics platform and later incorporate that data into a larger processing routine that operated on Nike's core consumer data.
The second project was to aggregate interest information for each user. Nike users can express their interest in Nike categories such as running or basketball through various Nike digital experiences. Her job was to aggregate information about each interest for every user. These interest tables were shared with the reporting team for further analysis.
For example, the reporting team looked at the number of people who expressed an interest in Nike categories and monitored responses to new features released on the applications. The information was used to make decisions about promotional campaigns and products.
How did the real world compare to the classroom? "When we work on class projects, we have a set of requirements that we will use to complete the assignment," Kumar says. "At Nike, they embrace change, so a lot of things were changing constantly. It was a very agile environment, so that was a stark difference from the classroom."
It wasn't all work. The 180 internship students were taken on rafting trips and to see football games, and given Nike-branded products. They met with leaders of the company and had a two-day Hackathon contest to develop new virtual or augmented reality applications. Nike was looking to its interns for fresh ideas it might develop into future projects. As its website states, "In Nike's paid internship program, undergraduate and graduate students get a full immersion into the brand's culture of curiosity and innovation."
Kumar's internship experience confirmed her career plans to work in data engineering after graduation.
"It was intense and they kept us busy and a little crazy, but I enjoyed every minute of it."