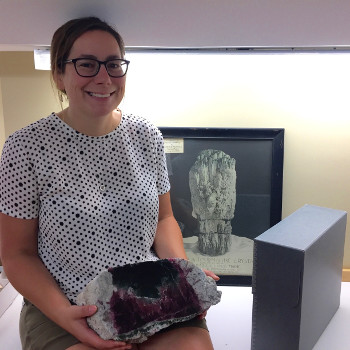 Savannah Sessions grew up in Maine and gets excited about the human side of mining in her state.
For her MLIS Directed Fieldwork, Sessions is working with the Maine Mineral and Gem Museum (MMGM) to shed light on the sacrifices and risks often experienced by miners, many of whom were immigrants.
"Mining is a thing of the past, but people are still doing it," says Sessions. "When I'm reading through correspondence and papers at MMGM, they often describe someone reaching into a pocket of rock and pulling out some incredible specimen of tourmaline or beryl or other mineral."
"People can appreciate beautiful gemstones on their own," she says, "but adding the human story provides the context to the magic of discovery."
The museum's latest acquisition is a giant beryl crystal on permanent loan from the American Museum of Natural History. "In my digging through the archives, I found correspondence about the discovery and sale of this crystal. It is cool for this object to be coming back home," says Sessions.
The museum was started five years ago in Bethel, Maine, but has not yet fully opened. The museum website states that it is being built "to showcase our geological history, display renowned mineral and rock collections, provide educational opportunities for the novice and expert alike, conduct historical and geological research and to create a Maine travel destination for residents and visitors."
Sessions, a high-school history teacher and librarian, is using the summer to help with several big projects at MMGM.   
"It is a small town (2,200 people) and I come to a lot of events here, so I knew the director and had met the founders of the museum. I knew that there was a need for processing and working with the archives so I proposed the project," says Sessions.
She is helping organize the museum's archival collections by going through the materials and writing summaries of the content; cataloging information in the museum's software; and providing context for items in the objects collection. In the process, she is putting things in acid-free boxes and organizing them on shelves for easy access.
This work is contributing to an online exhibit the museum is planning for the fall to help with educational outreach and eventual accreditation. Sessions is also going through the documentation required for accreditation related to both institutional and historical archives, and trying to set up best practices and worksheets that people can use going forward for processing materials.
She is proud of the museum's "world-class collection of meteorites" and opportunities for teachers to show students around the university-level research equipment that includes and electron microprobe, a scanning electron microscope, an X-ray diffractometer and other instruments used to analyze rocks and minerals. Researches spend time at the museum and offer their expertise to the public.
"Right now we have a Danish professor who is an expert on meteorites and is working on our meteorite exhibition," Session says. "He gave a lecture about 'the continuing search for life on Mars' to a packed room."
The museum staff have given Sessions freedom to explore her interests. "It is a nice cycle – helping me learn something new and helping them work towards opening as the best institution they can be."
Lately, she has been thinking a lot about improving access – sharing the museum with as many people as possible.
"Mining in general involves a small section of people and they are overall a homogenous group," she says, "but geology and history are everybody's subjects, so getting more voices involved and telling the story of the people is a really important thing to share."