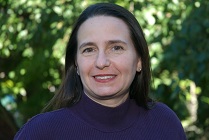 Laura Schildkraut wants students in her Gender and Information Technology class to know two things about the workplace: You are empowered to take control of your career, and professional relationships and interactions are complicated.
 "I want to show the women in the class that this is a great field and they shouldn't shy away from it because in some cases women don't seem to be welcome," says Schildkraut. "And, for all students, it's about empowering them to understand what many women go through and to help them be better managers, colleagues and subordinates. I want students to recognize the complexity and give them the insight and skills to create a better workplace."
Schildkraut, who has been teaching in the iSchool since 2009, was recently hired as a full-time lecturer. In addition to the Gender and IT course, she teaches Professionalism in Informatics and manages the MSIM internship program.
Her career started in marketing, but quickly moved to the information technology field when the personal computer started to become a mass market device. In 1982 at Chemical Bank, she worked on Pronto, the first computerized home banking system. She then became a systems analyst with the National Association of Security Dealers, moving to Ogilvy & Mather and then Microsoft. She finished her five-year career at Microsoft working in the K-12 education customer unit.
Schildkraut started teaching part-time at the University of Washington after leaving Microsoft. She also specialized in training staff in corporations on how to improve working relationships across the generations and how leaders could more effectively manage the new generation of employees – Generation Y or Millennials. Her workshops helped people appreciate generational diversity by bringing in participants of various ages and, in part, having them think about the loving relationships they have with parents, grandparents or kids in spite of generational quirks.
"It's a fun way to start the diversity conversation because we can focus on differences while participants also think of themselves at various ages, how different they were or expect to be. In the end, it comes down to respect and appreciation and not judging people by the assumptions you are making due to outward appearances," she says.
Schildkraut was tapped to teach a class on professionalism to iSchool Informatics students. "My colleagues are teaching them critical analysis, design and technical skills and I'm teaching them to be someone you want to work with. My role is to teach them the skills so they can shine through the first six to 12 months at their first post-college job. After that, they'd have figured it out anyway. I give them a jumpstart to being impressive."
These lessons include how to communicate; how to write an email that someone will read; how to give a compelling presentation with confidence; how to pitch and start a project; and how to network. "The biggest message from the class is to figure out who you are and what you care about. Then find an organization that supports and is consistent with your values."
The iSchool is a special place, according to Schildkraut, who has taught at several other UW departments. Schildkraut is pleased to have a full-time position at the iSchool, where she believes lecturers are respected as a vital part of the teaching mission and faculty are especially collegial.
She also loves the Informatics students, noting that they gravitate to the iSchool because they care about the world and are deliberate about taking that caring into their professional lives.
"You can feel the level of heart in what they are doing every day," says Schildkraut.