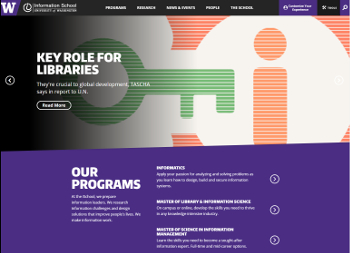 The UW Information School rolled out its redesigned website on Monday, Aug. 21.
The new-look website uses updated colors and typefaces that align with those used on the main UW site. It features a simplified navigation structure and a tool that gives users the option to customize certain aspects of the site based on their choice of audience – current students, future students, faculty and staff, or "everyone."
The iSchool site is among the first on the UW campus to use the new Drupal 8 publishing platform. The new platform necessitated a complete rebuild by Lead Web Developer Nick West and his team, which included Web Developer Eileen Koven and intern George Ng.
The developers have been working with Hadi Rangin of the UW Access Technology Center to make the site more usable for those with visual or hearing impairments, a priority for everyone involved.
"The iSchool, as the leader of information design and delivery, is striving to provide access to information for all, including those with disabilities," Rangin said. "Accessibility is a process and not a state; we can't say that the iSchool website is 100 percent accessible to all users with all different types of accessibility, but the iSchool continues to work with ATC to improve the accessibility and usability of their website."
Others who contributed to the project included Communications Director Lori Dugdale; Web Producer Doug Parry; designer Zack Keys; and dozens of iSchool faculty members, staffers and students who gave their input as the redesign process unfolded.
If you have comments or questions about the website, please email Doug Parry at parrydo@uw.edu.