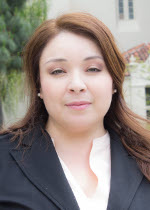 It was a dream internship that combined two passions: law and baseball.
Karen Sánchez, an MLIS online student, is spending the summer working for the Law Library of Congress to help it prepare for a June 2018 Baseball Americana exhibit – a look at how the great American pastime has spread worldwide.
The exhibit will include a "moot court" on the use of the designated hitter; a small exhibit featuring items from the Law Library's collection; and a joint program for Labor Day on baseball and free agency/players' rights and how that relates to antitrust laws.
"As a law library nerd, as I call myself, I was instantly attracted to the idea of working for the Law Library of Congress," says Sánchez.
She found out about the internship from a blog post by the LLC internship coordinator. They needed someone in Washington, D.C., to go through the stacks and find things to display in the collection. The fact that she lived in Los Angeles and had a full-time job did not dissuade her from applying.
"They said, 'Tell us in a paragraph what you think you can offer to the project,'" Sánchez says.
She let them know she spoke Spanish, had access to her local law library, and was good at research using serials (digital journals). They offered her the position.
Persistence is a theme in Sánchez's life. She graduated with a B.A. in political science in 2004 from the University of Southern California and had dreams of law school, but her grades and finances were a hindrance. Her only work experience was as a work-study student in the USC Law Library, so after graduation she became a contractor with the LAC Group working with law firms and corporate legal departments. She moved on to her current position with a large law firm in L.A. and has been there for 12 years.
"The thought of library education really developed over a long time. It wasn't something that I thought I wanted to do early in my 20s," Sánchez says. "I defaulted to library work just because I had no other practical skills."
Sánchez is pursuing her MLIS degree to advance her career. She is the winner of several national and regional scholarships and is the incoming chair of the UW chapter of the Special Libraries Association.
As a first-generation Mexican-American, Sánchez is passionate about making her profession more diverse. She works with high-school students through her firm's internship program to expose them to special librarianship.
"None of them have been to their local library or knew what a librarian really does," Sánchez says. "I want them to see me as a Latina, that this is a viable career option should they find it interesting."
For her own eight-week summer internship, Sánchez's preliminary research includes looking at baseball case law in antitrust, contracts, trademarks, and labor as well as gathering the legislative history of the Curt Flood Act – the act that made Major League Baseball players covered under anti-trust laws. Additionally she is writing a blog post highlighting the plight of Cuban players smuggled and trafficked into the U.S. and the implications for American-born players.  
"It's an assignment that requires me to do legal research in a way that I would never have gotten to do in my own job," says Sánchez. "I want to highlight the social issues that affect baseball players, particularly players who come from poor Latin American countries and Cuban refugees."
Which brings us back to her passion for baseball. Sánchez and her husband like to vacation around baseball parks. She says they have checked five stadiums from their list so far, although her husband went to Seattle's Safeco Field without her while she was in the MLIS program orientation.
In reflecting on her career and education, Sánchez says, "This is one of the great things about the iSchool MLIS program, that you are able to make the connection between the workplace and your studies. I really appreciate and am grateful for the opportunity."