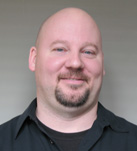 Greg Hay has a saying he likes to use in the classroom – learning how to "chop wood," which means learning how to get things done. He is a pragmatic kind of guy.
Hay, who has been teaching at the iSchool since 2008, was recently appointed as a full-time lecturer. He is an alumnus ('07) of the iSchool's Master of Science in Information Management program and has bachelor's degrees from the University of Washington in history and anthropology.
Early on as an anthropology undergrad, Hay participated in the UW East African Student Tour in Kenya, where he studied with Mary Leakey. "I was going to save the world, starting with the elephants," Hay says of his experience.
His career took him in a different direction.
In 1989, Hay and his brother founded Hay & Associates. They sold custom software and Novell networks. When Microsoft came out with new products, the brothers saw the financial opportunity and were among the first to sell Microsoft SQL Server and LAN Manager.
Hay became an expert in databases. After Hay & Associates closed up shop, he worked with Microsoft and many other companies as a database administrator and consultant for the next 20 years.
It was at Microsoft that he had his first teaching experience. He was asked to train the operational engineers on databases, so he developed a course and held lunch meetings every Wednesday for six months.
"I was active with the iSchool alumni association through AIMS (the Association for Information Management Students) and there were students complaining that the degree wasn't technical enough. Mike Crandall (MSIM program director) asked me to teach a database-centric technical course. I modified slides that I'd already built for Microsoft and taught the class in the summer of 2008. It was successful, so Mike asked me if I wanted to teach systems analysis."
Hay taught 18 classes in 2016-17, including courses for the iSchool, UW Professional and Continuing Education, Northeastern University and a number of coding boot camps. He now teaches Introductory and Advanced Databases classes for the iSchool and has had students do projects for companies such as Docusign, Disney, Starbucks, APEX and Microsoft.
"I teach my class like real life. I tell my students that this is not just a class, it's an opportunity." Hay warns his students to take the opportunity seriously or he will pull them off the project – the "chopping wood" rule.
He carried the rule over to high school kids as a volunteer math tutor for Community for Youth, a Seattle nonprofit organization providing mentors to youth at three high schools. Hay volunteered as a mentor and board member for 16 years.
"If I couldn't save elephants and I couldn't save the world, I was going to save disadvantaged youth," says Hay. "Three of my former students are now senior level DBA at Boeing and Disney. They were 14 years old when I went started working with them.
"That inspired me to teach. Working with kids that were bright kids who just didn't have the foundation or support around them to know what to do or how to do it. No different than me, other than I had two parents who didn't mess around."
He plans to continue teaching.
"I enjoy seeing people go boom – having that aha moment. I'm fortunate in that I teach practical coding, so people get to learn how to build stuff, and I do very well with highly motivated students," says Hay.
"It is still inspiring. It still feels good."