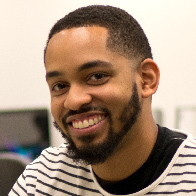 iSchool Ph.D. candidate Martez Mott is among the inaugural winners of Microsoft's Research Dissertation Grants.
The $18,000 grant will support Mott in his research on taking an ability-based design approach to touchscreen devices. Mott's work on "Smart Touch," which was featured recently in a story and video on the University of Washington's website, focuses on making such devices usable for people with cerebral palsy, muscular dystrophy, Parkinson's disease and other conditions that impair their motor skills.
"I intend to create intelligent interaction techniques that allow people with motor impairments to touch in whichever ways are most comfortable and natural for them, and for the system to react as if it was touched precisely," Mott told Microsoft.
The research awards went to 12 Ph.D. students at universities across the United States. In addition to the funding, Mott will have the opportunity to present his research, meet individually with Microsoft researchers and receive career coaching from them.
Mott also recently was awarded the UW GO-MAP Dissertation Fellowship, a one-year fellowship to support minority graduate students in the final years of their doctoral studies.