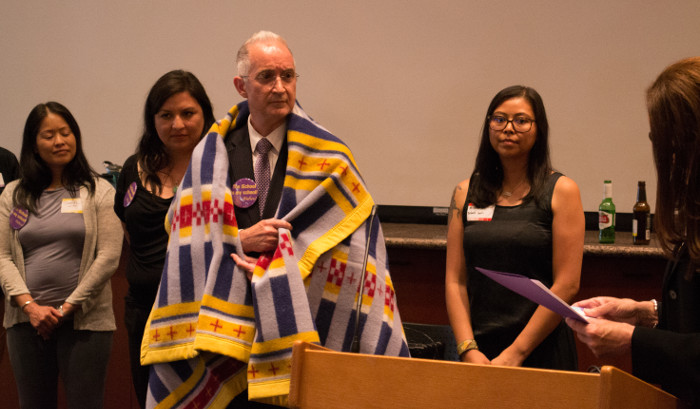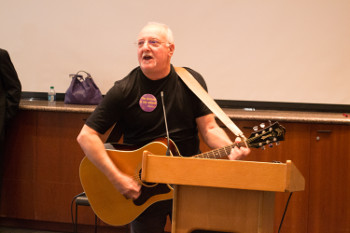 The iSchool sent Dean Harry Bruce off in style and song on Wednesday, June 7, in a heartfelt celebration of his 19 years of service to the school, 11 as dean.
Faculty, staff, alumni, students and friends gathered – along with Bruce's family – in the Walker-Ames room at the University of Washington's Kane Hall to pay tribute and share stories.
UW Provost Jerry Baldasty, iSchool Founding Board member Don Horowitz, Associate Professor Joe Janes, and Assistant Dean for Planning and Administration Mary Clark were among about a dozen colleagues, friends and Ph.D. students who gave speeches in honor of Bruce.
Iisaaksiichaa (Ross) Braine and Associate Professor Emerita Cheryl Metoyer led the presentation of a blanket to Bruce on behalf of the Apsaalooke (Crow) and Northern Cheyenne tribes, as well as a Native song in his honor.
Mike Eisenberg, who preceded Bruce as dean, gave his speech in the form of a song for Bruce and his wife, Lorraine, who is retiring as a lecturer at the school. "The Ballad of Harry and Lorraine" told the story of their friendship and partnership over the years.