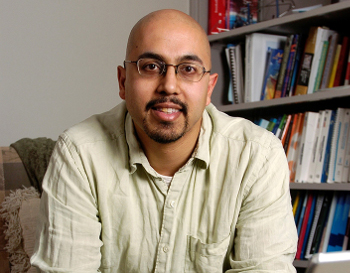 Professor Anind Dey will become the next dean of the University of Washington Information School, President Ana Mari Cauce and Provost Gerald Baldasty announced Wednesday, June 28. Dey will succeed Harry Bruce, who is stepping down this summer after 11 years as dean.
Cauce and Baldasty shared the news with the iSchool community in an email:
"We are pleased to announce the appointment of Dr. Anind K. Dey as the next dean of the Information School. Anind comes to the UW from Carnegie Mellon University's School of Computer Science, where he is the Charles M. Geschke professor and director of the Human-Computer Interaction Institute. His appointment is subject to approval by the UW Board of Regents.
"Anind brings great knowledge, insight and experience to the iSchool and the UW. We are confident that he will build on the remarkable work by Dean Emeritus Mike Eisenberg and Dean Harry Bruce, whose combined vision and leadership has helped make the iSchool one of the premier schools of its kind in the country. This spring, U.S. News & World Report ranked the iSchool second among U.S. master's degree programs in library and information science.
"In his research, Anind uses everyday technology (worn, carried and embedded in the environment) to develop tools and techniques for understanding and modeling human behavior, primarily within the areas of health, transportation, sustainability and education. Some of his work, for example, has involved using sensors to collect information on the activities of older people that could be used to better personalize their health care.
"At Carnegie Mellon, Anind has been a professor since 2005. He has also held positions at Intel Research in Berkeley from 2001 to 2004, and at the University of California-Berkeley from 2002 to 2005.
"Anind earned his bachelor's degree in computer engineering from Simon Fraser University in Canada. He holds two master's degrees from the Georgia Institute of Technology: one in aerospace engineering, and one in computer science. He received his Ph.D. in computer science, also from the Georgia Institute of Technology.
"We thank the search committee, chaired by Evans School Dean Sandra Archibald and Dean of Libraries Lizabeth Wilson, for their work over the past several months in identifying several exceptional candidates. And, we thank Dean Harry Bruce for his service to the iSchool and the UW. We look forward to formally welcoming Anind to the UW."