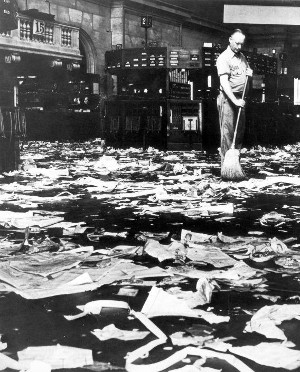 Timing is everything, they say. In the latest episode of his Documents that Changed the World podcast series, Joe Janes of the UW Information School explores how an overload of critical information helped trigger the stock market crash of 1929, and thus the Great Depression.
"This is a story about fortunes lost, lives ruined, a world plunged into a decade of depression, the end of an era," Janes says in the podcast. "And, a story of infrastructure. And like any infrastructure, nobody pays any attention — until it goes wrong."
In the podcasts, Janes, an iSchool associate professor, explores the origin and often evolving meaning of historical documents both famous and less known. UW Today presents these occasionally, and all of the podcasts are available online at the iSchool website.
Janes focuses here on the information itself, as provided by the stock market ticker tape. Introduced in 1867, the ticker tape was just a specialty telegraph printer for stock transactions. Its use skyrocketed, and by 1887, fully 87 percent of Western Union's total revenue came from stock traders and, in a suitable pairing, racetrack gamblers. With the ticker providing near-real-time updates on transactions, Janes says, "financial information was now in the hands of the many."
By the late 1920s, however, it was becoming apparent that this technology, moving at 300 characters a second, could not keep up with dramatically increasing trading volume, which reached into the millions daily. People knew that the ticker was suffering delays and unable to keep up — but with profits pouring in, it was hard to care.
"On October 21, things started to turn," Janes says.
"When it started to fall, and the ticker fell behind, and then when it became clear that things were getting worse fast, it was the not knowing — and moreover not knowing what you didn't know — that helped to fuel the panic," Janes says in the podcast.
The stock ticker ran 152 minutes late on Oct. 29, 1929, the day most associated with the crash. The crisis deepened over the months until a share of U.S. Steel bought at $262 in the high times of summer 1929 was worth all of $22 by the summer of 1932.
Janes said the episode was inspired by his reading of John Kenneth Galbraith's book "The Great Crash," where he learned of the ticker tape delays "and how that helped to feed the growing sense of panic." The book served as a starting point for his research.
In preparing the podcast, Janes said, he was surprised how even in 1929 there was such a focus on "immediacy and timeliness of information in the market." An effort was underway to speed up the transmission of information, he adds, but it didn't get there in time.
All of which makes this, as he says in the podcast, "an unusual example of a document that is likely simultaneously the record and cause of events."
So, this is a story of infrastructure, but also, Janes says, "a business story, a technology story, even a psychology story. To me, though, the critical aspect here is the information itself, the numbers and symbols tumbling out on the little strip of tape spelling doom for a way of life for so many."