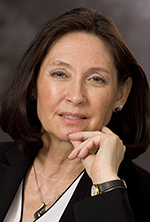 Patricia Cutright didn't even know how to turn on a computer when she came to the UW in the early '80s. The School of Librarianship she entered had only seven computers, with access to two database systems. To reach those databases, students had to dial up a vendor, wait for a machine whine, then stuff the phone handset into acoustic couplers.
 "We were right on the cusp of using computers for online searching then," says the dynamic leader selected as this year's recipient of the iSchool Distinguished Alumni Award. "It was a real challenge for me, trying to master a whole new set of knowledge and at the same time having to learn this new automation and technology. It was like a train coming down the track at you."
Cutright, a Lakota Indian enrolled in the Cheyenne River Sioux tribe, also worked as a graduate research assistant in the UW's American Indian Studies department during those demanding academic years, helping set up the program's first library. "There wasn't a whole lot of time," says Cutright, who graduated with her Master of Librarianship in 1983, completing the two-year program in thirteen months.
Over the next years, the computer revolution exploded. The School of Librarianship evolved into the Information School. And Patricia Cutright, computer neophyte, evolved into a tech-savvy, internationally recognized leader who modernized academic libraries from the Northwest to New York, published in areas of technology and library cooperation, and mentored new generations of students in library administration and information literacy skills.
"Throughout her career, Patricia Cutright has demonstrated her determination to serve and to transform," says iSchool Dean Harry Bruce. "I admire her grace, integrity and vision. She is a stunning role model and an extremely worthy recipient of the highest honor that a UW iSchool graduate can achieve: the Distinguished Alumni Award. We are all very proud of her."
Cutright has engineered sweeping changes inside and outside library walls over her long career. In Oregon, where she was named Librarian of the Year, she helped more than 20 public and hospital libraries set up information-sharing computer networks.  She was instrumental in the grassroots movement to secure legislative funds to support the state's libraries. "To go into legislators and educate them on the value of libraries was a real steep growth pattern for me," says the soft-spoken woman. "I am pretty much of an introvert."
She is also, say colleagues, a bulldog, utterly tenacious. "I just forge ahead," she says.
That tenacity served well when she took over as Dean of Libraries at Central Washington University in 2010, transforming the school's James E. Brooks Library into a digital, highly interactive, community-oriented 21st-century library with a vast electronic repository and a whole new attitude.
The re-booted library threw open its doors to the public, offering readings, book sales, workshops, film series, game days. "I refer to our library as a "little Switzerland," because libraries are a neutral territory," says Cutright. "You don't have to be a sociologist or a geologist to step foot in this building. Anybody can come in."
The library situated itself at the heart of student life. Innovations included a new library coffee shop and fun events such as "Waffle Nights" for students during finals. Brooks Library even brought in therapy dogs to help students "Paws and Relax" as they crammed for exams. "The students can chill out with the dogs, relax, then go back to their studies more focused," says Cutright.
The library reached out to the business community, developing town-and-gown partnerships with regional foundations, organizations, companies, and the Kittitas County Chamber of Commerce, which co-sponsors an annual fundraising gala for the library. At the popular Suncadia Resort, Brooks librarians helped develop interpretative centers and posts through the grounds. "Partnering on this important project really brought the library visibility," says Cutright.
The diversity of programming and community outreach at the library has drawn national attention. Last year, Brooks was one of only two academic libraries in the country recognized as finalists for the National Medal for Museum and Library Service, the highest honor given to museums and libraries for community service.  "Dean Cutright's influence on our learning environment is profound," says Central Washington University President James Gaudino. "Under her leadership, the James E. Brooks Library is again the center of the university's intellectual and community life."
Cutright, whose professional society memberships include a seat on the American Indian Library Association executive board, has also lent her skills to tribal communities. She and her librarians are currently working with the Yakama and Wanapum tribes, teaching cataloging, reference, and management skills for their collections. She has also helped the Confederated Tribes of the Umatilla in Pendleton set up libraries and archives.
Cutright had no intention of becoming a librarian. But she was a bookworm from early on. She grew up in the Northwest, raised by her sister and an auntie with seven children after Cutright's own mother died. "There was this idea that books were the way out," she says. "If we read, if we understood what we were reading, if we could apply it, that was going to be our key to a good life."
At Idaho State University, where she earned her bachelor's in sociology, she met the mentor who would change her life. Cutright had a part-time job in the library circulation department. Her boss looked at her one day and said: "You're going to become a librarian." The boss persisted. Finally, Cutright caved and began filling out applications for graduate schools in librarianship.
She was accepted at every school she applied to. She chose the UW program, she says, because it was strong and tough, with a solid faculty who held high expectations for students. "What I remember most, even though the program was so difficult, was that I got the right support from the right people."
One of the goals of her three-decade career has been to shatter musty images of libraries as warehouses for books and librarians as stuffy crones with buns at the nape of their necks, a shushing finger at their lips, and a reluctance to ever get up from behind a reference desk. "I sincerely believe, and think we've succeeded here at Brooks, in getting librarians out and involved. Our librarians are in the campus classrooms, teaching cheek-to-jowl with law and justice professors or English professors, sharing their broad range of knowledge and skills with students."
Brooks librarians are also out serving local Head Start programs, leading kids in story times and bringing them to the campus library for "Oh! Wow" visits. "As librarians, we are walking resources," says Cutright. "We have to make sure we get out there and sell our wares."
After some hard soul-searching, and to the lament of colleagues, Cutright has decided to step down this summer from her role as Dean of Libraries at CWU. In retirement, she wants to travel, do landscaping, maybe engage in some online teaching.
But first her colleagues will have to get rid of her.
"I know from prior experience that I have trouble leaving positions. I have a bad habit of still being there days after my last day was supposed to happen." Cutright chuckles. "This time my husband is determined he will actually get me out of town."