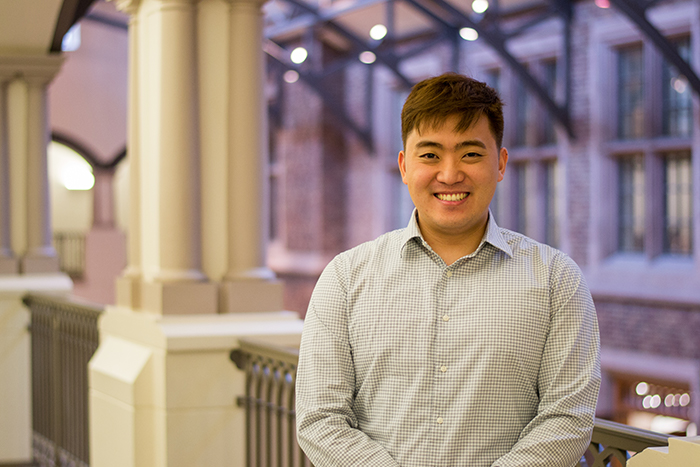 Andy Herman, a graduating Master of Science in Information Management student, was selected by the Graduate School to be one of only two master's students from the UW Seattle campus who will serve as gonfaloniers – banner carriers – at the Commencement ceremony on June 17 in Husky Stadium.
Gonfaloniers are nominated by their program advisors and exemplify graduate education at the UW: excellence in learning, teaching, mentoring and/or research. They are announced by name as they enter the stadium, featured in the commencement program, and sent to the news media for recognition.
Herman was born in Seoul, South Korea, and grew up in Las Vegas. He received his undergraduate degree in microbiology from the University of Washington in 2011. After briefly attending medical school, he shifted careers to pursue a career in health-care cybersecurity at the iSchool.
Herman co-founded the ISACA student group chapter at the UW to provide opportunities for undergraduate and graduate students to interact with cybersecurity professionals. He also served as the Vice President of the Association of Information Management Students group.
Currently, Herman is an Information Security Consultant at First Information Technology Services. He intends to continue his career in cybersecurity and risk management and hopes to work with other professionals to contribute to the development of compliance frameworks to protect private data of consumers. 
In receiving this honor, Herman expressed his gratitude to his parents and siblings, the iSchool faculty, staff, and his cohort, who motivated and supported him through the program. He thanked Dean Kirkpatrick, iSchool career counselor, for his award nomination and Annie Searle, iSchool lecturer, for her continued mentoring and support.