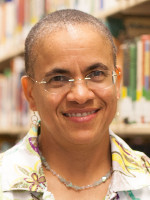 "The more diverse the kids, the better." That is how Michelle Martin, Beverly Cleary Professor for Children and Youth Services, described the secret to the success of her 6-year-old Camp Read-a-Rama program.
Conceived while Martin taught English at Clemson University, Camp Read-a-Rama uses books and literacy activities as a springboard for all of the other hands-on and outdoor activities that camp offers, including crafts, games, swimming, and field trips. Children, ages 4 to 11, from a range of socioeconomic, ethnic, and cultural backgrounds and of varying skill levels, attend.
Camp Read-a-Rama strives to stop 'summer slide,' a term used to describe the loss of reading skills over the summer break, and to improve attitudes toward reading. Research shows that if children have a good attitude toward reading, they will work harder to acquire the skills.
"When a 10-year-old reluctant reader, who has problems with dyslexia, reads to a 4-year-old, the 4-year-old thinks the big kid hung the moon because of the one-on-one reading relationship," Martin said.
For maximum fun, Martin takes a theme and a set of books, and then creates games, songs, activities and reading time to keep the kids fully engaged while they are learning. Themes have included "Splashtastic," "Incredible Edibles," "Art-Attack" and "Bug Eyes, Bird Brains & Bat Wings."
"We want to do things at camp that they wouldn't think about doing at home, no matter how messy," says Martin.
This year's Read-a-Rama will be in partnership with Compass Housing Alliance, which offers housing to formerly homeless families, and Gethsemane Lutheran Church. Children from Compass will attend the camp for a couple of weeks in July, and older campers will have their own week at the end of July.
Martin stresses the importance of a low volunteer to child ratio – 1 to 5 – to ensure plenty of attention for the kids. Staff volunteers will come from the iSchool's MLIS and Ph.D. programs, plus UW undergraduates from the Pipeline Project. Volunteers will receive training in the Read-a-Rama model for working effectively with kids.
Martin says there's no room for down time in this summer reading program, which has also never had direct reading instruction.  Camp Read-a-Rama embraces learning by doing and has always kept kids busy nonstop. Its mantras, in fact, are "100 percent engagement, 100 percent of the time" because "Dead time will kill your program."  She hopes that, in time, Camp Read-a-Rama will become a national model for fully engaged summer programming, especially for the kids who need it most.