What makes a library? It depends upon the people it serves. And creating a library that truly benefits its community requires careful planning and deep understanding.
A group of students from the iSchool, with the guidance of Associate Professor Ricardo Gomez, are helping create the first Tseltal language library in the Mexican state of Chiapas.
Gomez and several students visited Chiapas earlier this year to work on the library for the Tseltal Maya, one of 25 indigenous Mayan groups in southern Mexico and Central America. The work is part of a larger effort at community development, including a radio station and community wellness evaluation.
It was the second trip to Chiapas for Gomez. In November 2015, Jeannie Berwick from One Equal Heart Foundation visited the iSchool, seeking help to set up the library. In March 2016, Gomez and a group of students visited the community to take the first steps. Gomez hoped to find a project that would be beneficial to the community and the iSchool students. He was pleased to find that the work in Chiapas fit both criteria.
Gomez has set out a five-year plan for the project, which will include more trips to the site.
He says the project is a unique opportunity for students to help create a library from a scattered collection of materials in the Tseltal language. It gives them a chance to think deeply about what makes a library and to work within the framework of the community.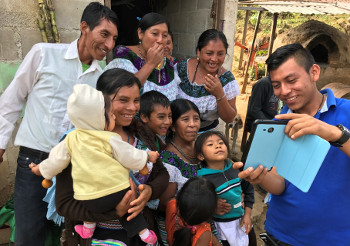 "They are informed by the professional practices of librarianship, but adapted to the local context and the local needs," he said.
Kelle Rose, a Master of Library and Information Science student who will graduate in June, went on the trip as part of her Capstone project.
"I was intrigued by the idea of helping to establish a library almost from scratch," she said. "It seemed like a very hands-on project to get involved in many different ways and learn many different aspects of the development process. And the fact that it's an indigenous library was also exciting. It adds an additional layer of learning and awareness that is really important."
Gomez said that visiting the community was vital for the students to truly understand it.
"They now have a more complex, more sophisticated understanding of community development initiatives, and how they are all intertwined and all come together," he said.
Yvette Iribe was visiting Chiapas for the second time. Iribe, who is based in Los Angeles, recently earned her master's degree and has been accepted to the iSchool's doctoral program. She first joined Gomez as part of her Capstone work for her MLIS in 2016, and will continue with the project as she works on her doctorate.
Iribe said the project hit close to home. Both of her parents were born in Mexico, and she grew up bilingual in a primary English-speaking community, something she could relate to with the Tseltal youth, who often grow up in bilingual homes.
While in Chiapas, Iribe and the team offered workshops with training on selection and retention of library materials, collection development and radio programming. In addition, the team visited a nearby community and offered training on participatory photography, in which members of the community take a photo, and then talk about it to help establish the impacts of the development programs.
"It was a great trip. Tseltal library and radio staff worked with us and together we were able to create the tools necessary to keep the project moving forward," Iribe said.
One moment stood out for Gomez. Before the trip, the students created a form to define metadata for the library. Once they arrived, however, it became clear that the framework needed to be adjusted, Gomez said.
His team and community members were discussing how to adapt it. Eventually, the local participants went off by themselves, and began talking animatedly in Tseltal, while gesturing to the form and documents. The iSchool group patiently waited. Eventually, the participants returned and explained their decision. They created four categories to serve as an organizing principle for the project.
Gomez emphasized that it was vital to be flexible and give the community the space and the tools to develop the plan.
"What we invented at UW is not necessarily what is most useful in Bachajón," he said. "We did a great job of adapting, simplifying and adjusting before going, but the most important thing is the adaptation and additional adjustment there with the groups on site. This was a very nice job that I am very proud of."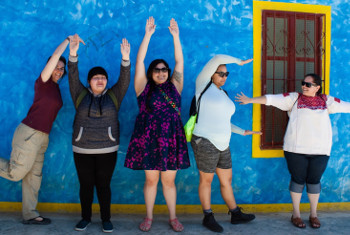 Jessica Humphries, who is in the online MLIS program, also went to Chiapas for her Capstone project. She appreciated the chance to work with her fellow students in person. Additionally, working with indigenous communities was important to her, personally and academically.
"As an indigenous woman, I have focused my degree on indigenous systems of knowledge and libraries to serve indigenous peoples," she said. "For me, this was an opportunity to connect with another indigenous community and to work on fieldwork with a collective team."
While Humphries was there, she supported the workshops and participatory photography projects. Now that the team has returned home, she and Rose are working to review potential library and archival systems for the Tseltal library.
When Gomez returns to Chiapas, he hopes to build on the previous work, with each trip providing more perspective and nuance, to help create the best resources for the community.
Iribe says she is looking forward to returning and excited about where the project is heading.
"The best part of the trip is getting to work with the Tseltal people, visiting communities and getting a better sense of how our work can have a positive impact," Iribe said. "We have been welcomed each time with open arms and hearts, and I have truly enjoyed being able to learn from the Tseltal and seeing the world from a different perspective; I'm humbled. We're building a solid foundation for a partnership that I hope will continue for years to come."