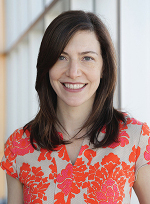 Jill Bourne, an iSchool alumna who now directs California's San Jose Public Library, has been named Library Journal's 2017 Librarian of the Year.
Bourne arrived in San Jose in 2013, taking on the challenge of budget shortfalls and reduced hours across the library system's 23 branches. Despite a capital campaign that had renovated older libraries and built new ones, library use was in decline.
"The staff were all scared," Bourne told Library Journal. "There had been layoffs, and the place was in this awful kind of holding pattern. They had finished that beautiful capital program, but they couldn't open the resulting new and renovated libraries."
That all changed under Bourne, who soon secured funding from San Jose city leaders and voters.
"The effectiveness with which Bourne spearheaded her Library Access Strategy, opened the libraries, built new relationships with and support from San José's civic leadership, and leveraged partnerships and fostered innovation — and is now reaching beyond the library to a new citywide Education and Digital Literacy Initiative — has won over a newly inspired staff and convinced our judges to name her the 2017 LJ Librarian of the Year," the magazine wrote.
Bourne, who is originally from New York, got invaluable experience during her time in Seattle. She earned her master's degree in 1997 at the University of Washington iSchool, which was then the Graduate School of Library and Information Science, and went on to head Seattle's Central Library and serve as assistant director under Deborah Jacobs at Seattle Public Library.
"I'm really lucky because I cut my teeth at the Seattle Public Library and got an early experience of what it is like to do a huge funding measure," Bourne told the magazine.
While in Seattle, Bourne also worked with Brian Bannon, the iSchool's 2015 Distinguished Alumnus. Bannon, who earned his master's degree in 1999, now is commissioner and CEO of the Chicago Public Library. While Bourne directed the Seattle Central Library, Bannon was a branch manager. Eventually, both moved on to the San Francisco Public Library.
"When I was a student worker in Seattle, Jill modeled how to be a great librarian. When she became my boss in San Francisco, she became my mentor and close friend. Now as an urban library leader, she continues to teach us how to lead and strategically place libraries at the center of our communities," Bannon told Library Journal.