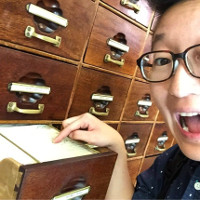 Information School MLIS student Sunny Kim has been awarded the 2016 Maryan E. Reynolds Graduate School Scholarship, the Washington Library Association announced.
In making the $6,000 award, the scholarship committee noted that it was impressed with Kim's active involvement in the WLA as a member of the Children and Young Adult Services steering committee, which also includes iSchool students Katie Riley, Erika Nicole Miller and Ryan Dzakovic.
Kim came to librarianship through youth-led community organizing, and has focused on service to teens and on diversity and equality issues. 
"I'm grateful to Seattle Young People's Project, where I met incredible young people who were seeking justice in their lives," Kim said. "Through that work I learned about the importance of centering youth leadership and creativity. In particular, I believe it's critical to support young people of color, queer and disabled youth, and immigrant youth as they seek to understand and shape the world around them."
After graduation in spring 2017, Kim expects to pursue a public library career focusing on teens.
The WLA awards one or more Reynolds scholarships of up to $6,000 annually based on criteria including involvement in the WLA and commitment to libraries and library service.. Visit the WLA Graduate Scholarships page to learn more.