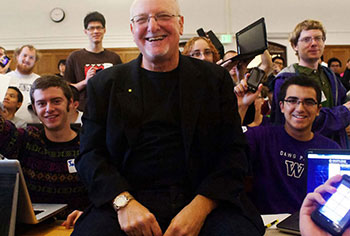 Hard-charging, irrepressible, with a head full of big ideas, Mike Eisenberg is quick to tell you he doesn't know the meaning of the word "No." "If it's the right thing to do, there has to be a way to make it happen," says the iSchool's founding dean.
That bulldog optimism served him well in the late '90s when he set out to transform an overlooked, under-resourced library sciences department tucked beneath Suzzallo Library into one of the greatest information schools in the world. Fueled by the vision of a new broad-based information mecca in the emerging technology capital of the world, the high-energy New Yorker rolled up his sleeves and got to work, pushing for rapid expansion of staff, programs, funding, a new vision, a new name, and new digs.
"I asked the provost's office what the next good building coming up on campus was. They said the Mary Gates Hall -- but you can't have it. I made the case, convinced them it wouldn't cost that much, told them 'You just got to know this is going to be successful,' " says Eisenberg.
Few, in the end, could say "No" to the man with the gesticulating hands and can-do magic. "He has such incredible energy, such vision, such charisma, that you can't help but be sucked in by his ideas. You see all this excitement, you see all this motion, and you get caught up in it. Wouldn't that be great? Wouldn't that be fun? Let's just try it! What the heck?" says associate professor Joe Janes, chair of the MLIS program.
That magnetic presence will be missed when Eisenberg closes the office door on MGH370D – the door with the "Make It Happen!" sign – for the last time in December. He turned 65 in October and it's time for him to retire, he says. "I don't do anything halfway and that's going to include retirement. I'm not going to postpone gratification anymore."
Taking a break in his office recently, looking campus casual in in T-shirt, jeans, and Husky baseball cap, Eisenberg reflected on his 16 years at the iSchool: the challenges, the triumphs, the "aha" moments, the tremendous support of his wife, Carol, a pediatric nurse practitioner. He wouldn't do anything differently, he said. Nothing. No regrets.
"To be at a university, and to be at the UW, one of the great schools on the planet, I pinch myself all the time."
Eisenberg, raised on Long Island, first stepped to the front of a classroom as a student teacher 45 years ago. After a couple of years as history teacher, he began scanning lists of masters programs: social work, public affairs, business … then he saw library science and the bells went off. "It was the big aha," says Eisenberg who graduated from the State University of New York at Albany's MLS program in 1973 and went on to work as a school librarian.
Academia was calling. After earning at Ph.D. at Syracuse University and helping build a cutting-edge R&D Information Institute at the School of Information Studies there, the professor was wooed to Seattle in 1998.
At the time, the World Wide Web was only five years old, the term "information management" still drew puzzled looks, and Google was just filing for incorporation. But the tech frontier in Seattle was buzzing with possibility.
"My first conversation at the UW was in Gerberding Hall, meeting with members of the search community, the dean of the Graduate School, and the chair of Computer Science and Engineering," recalls Eisenberg. "All of a sudden it hit me. We could really do something amazing here. I didn't hold back. I told them what I really believed in hopes they would embrace it. And they did. Together, we realized we could do something really momentous."
His to-do list was long. The 80-year-old library sciences department, overseen by the UW Graduate School, was floundering. It was down to five faculty, 150 students, a single masters program, problematic curricula, limited research, and little impact regionally or nationally. Many other library schools across the country had already shut down. Eisenberg, librarian by heart, was adamant this one would survive and thrive in his new information mecca.
The new director wanted "the right people, right now" and began gathering top-notch hires, including library science expert Janes, IT guru Scott Barker, and Australian information scientist Harry Bruce, tapped as the new associate director of research. "What he was trying to do was to energize people for rapid positive change," says Bruce, now iSchool dean. "His energy was very compelling, it gave off a sense of mission and urgency: The need to change is now, we can change now. Whatever the obstacle, we can correct that now. Let's seize the day, seize the opportunity."
Eisenberg went after his vision with the enthusiasm of a Pete Carroll chomping on the Seahawks sidelines. Theirs would be a "school of one" – no separate departments – and everyone, from receptionist to dean, would be a valued member of its community. It would have a human-first focus: How do you best serve people's information needs in any and every setting? And it would be collaborative and interdisciplinary, including a strong partnership with Computer Science and Engineering. "They welcomed us with open arms from the start," says Eisenberg. "They said 'We have our hands full with algorithms, coding, and programming. It's great to have a unit that focuses on the people side of things."
Within a few years, Eisenberg had doubled student enrollment, launched a second masters program, stabilized the curriculum, introduced undergraduate and Ph.D. programs, added a dozen new faculty members, and established his startup as an independent UW school with its own dean. He had also taken the bold step of changing the school's name from the Graduate School of Library and Information Science ("clumsy," he says) to the Information School and, finally, to the iSchool ("simple and cool"). It was an act of brilliant marketing -- there are now almost 60 ischools in the world sharing the brand.
The UW iSchool quickly became a thought-leader on campus and in the community. In his UW presidential speech in 2005, Mark Emmert singled out the school as an example for the entire campus, citing its interdisciplinary focus, its collegial culture, its creativity and innovation, its willingness to take risks, and its leaders with "very high expectations and very high standards of performance."
As the school gained eminence, its driven director – "I'm either 0 or 150 percent," says Eisenberg – maintained a furious pace. It took its toll. In 2004, on the night of George Bush's re-election, he suffered a heart attack. In less than two years, Bruce took over as dean and Eisenberg returned to one of his great loves: teaching.
It was good news for students. Undergraduates in his popular introductory informatics course describe the pacing professor, known to jump on a table to make a point, as "engaging," "entertaining," "exciting," "awesome," and "innovative," offering techie perks like real-time lecture chatrooms during class. "He embraced integrating technology into teaching and learning more than any other professor I had had before," says informatics major Hiram Munn
The "Make it happen!' professor became mentor and role model for many. "Professor Eisenberg was my main proponent to pursue a technology major, even when I was really discouraged by the competition and rigor of the field," says undergraduate Stephanie Lin, now double majoring in finance and informatics
ISchool doctoral student Jordan C. Eschler, a teaching assistant for Eisenberg, says he modeled two important values for her when leading a classroom: confidence and care. "In combination with building confidence in the classroom with his students, the value of caring for the student experience was also essential in Mike's mentorship: he showed me how to engage with and listen to student voices, and adapt to the way each new classroom of students interacted. "
His influence has extended to every grade level. Eisenberg helped develop AskERIC, a ground-breaking online question and answer service for K-12 educators funded by the U.S Department of Education. He also co-developed the Big6, a problem-solving approach to teaching information literacy adopted in schools around the world. The much sought-after speaker has also headed innovative research projects, co-investigating how university students of the "Google Generation" seek, evaluate, process, and put to use information in a world overloaded with it.
Eisenberg's imprint on the school will be long-lasting, say colleagues. His greatest legacy, they suggest, may be the iSchool's unusual culture of shared community and mutual respect. "His notion of the 'school of one' is a core value to our community. It speaks to our very identity; who we are, how we engage with one another, and the purpose and importance of our work," says Bruce.
For Eisenberg's part, he relishes the idea of sitting back and watching as the school he founded – now 950 students and almost 60 faculty strong – expands and adapts to a future that could include anything from talking walls to smart devices embedded in the brain. "Whatever it is, this school I dearly love will be at the center of it," he says.  "I have no doubt the UW iSchool will succeed beyond my wildest dreams."