Endowed professorships in children's literature are rare — "10 may be a stretch," says scholar Michelle H. Martin.  Holding one is a high honor. Now Martin — renowned author, essayist, lecturer, book critic, community literacy activist, and champion of diversity in children's literature — can put two on her resume. This fall Martin joins the iSchool as the Beverly Cleary Endowed Professor in Children and Youth Services.
She has ambitious goals for her new post, but her first job, she says, is simply to listen. "I want to meet with librarians and find out what is going on, what are their needs, how my skill set might map onto this habitat," says Martin, relaxing inside her still-bare office at Mary Gates Hall, where warm greetings from iSchool staff scrawl across her whiteboard: "Welcome, Michelle!," "I can't wait to connect."
The iSchool's Beverly Cleary Endowed Professorship, last held by the late Eliza Dresang, was one of the first of its kind when it launched in 2005. Cleary, a 1939 graduate of what was then the UW School of Librarianship, was a children's librarian who saw kids struggling to read books that had no characters they could relate to. Cleary set out to create those funny, everyday, everykid characters in books such as "Ramona the Pest" and "Dear Mr. Henshaw." She became one of the nation's most beloved, best-selling children's authors.
iSchool dean Harry Bruce, who convinced Martin to accept the iSchool professorship, says she exemplifies the spirit of Cleary. "Mrs. Cleary's impressive body of work was motivated by her commitment to produce stories in which generations of children can see themselves. Professor Martin's research and her service work in the community are in perfect alignment. She is committed to literacy development, access, and identity confirmation for black youth in children's literature."
Martin shares Cleary's vision. "She has spent her life writing books for children who had been left out of the literary record, and, in many ways, I have spent my academic career writing about the books left out of the literary canon," says the engaging professor, who has argued passionately for inclusion of books about children of color on library shelves and in school reading lists.
"Why just keep giving kids 'The Secret Garden' when there are all these other great books out there," says Martin, citing examples such as "What a Truly Cool World," which stars God as a bald-headed black man with a wife, Irene God, and a personal assistant, Shaniqua, determined to add some color to the boring green, brown, and blue world he has created.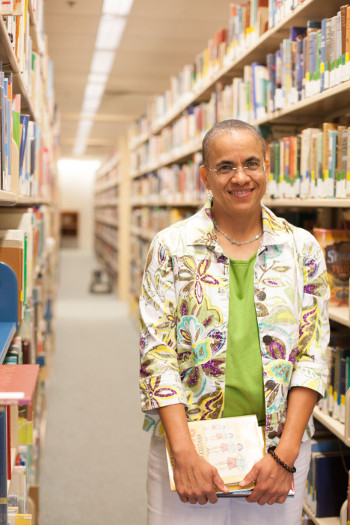 Such books remain a rarity in children's publishing. Of approximately 3,200 children's books published in 2015, 243 were about African Americans, less than 8 percent. Only 105 of the books were written by African Americans. "It's exceedingly difficult for minorities to break into the industry," says Martin, who is pushing to make changes. "The whole industry is largely controlled by whites."
A prolific, clear-eyed writer, Martin has produced a multitude of national book reviews and critical essays, including a soon-to-be-published co-authored article on the politics of hair in African-American children's picture books. She covers books such as "Cornrows" and "Happy to be Nappy" that celebrate natural black beauty and defuse the pressure on girls to conform to white beauty standards, straightening hair with flat irons, hot combs, chemical relaxers, pomades, and sprays. "There has not been a lot written about this in children's literature," says Martin, who wears her own hair in a close-to-the-scalp barbershop buzz, a 'do she finds "freeing."
Martin has pioneered scholarship in her field with such seminal books as "Brown Gold:  Milestones of African American Children's Picture Books, 1845-2002." It explores a literary evolution that begins with such brazenly racist works such as the "Coontown" series and the nursery ditty "Ten Little Niggers," written by and for whites, and moves toward the 1960s, when a revolutionized literature explored the civil rights movement and the black arts movement. In some ways, the genre got stuck there. "If you write a children's book about African-American culture and it's not about civil rights or slavery or a famous black person, the likelihood of it getting published is very low," says Martin. "Where are the books about the daily-ness of the lives of children of color?"
She is at work now on a book about the two "fathers of African-American children's literature," Langston Hughes and Arna Bontemps, writers in the 1920s Harlem Renaissance who created a large body of work for children celebrating African-American life, much of it still unpublished and unexplored. "This will be the first critical book on their work for children," says Martin.
She comes to the iSchool from the University of South Carolina, where she held the Augusta Baker Endowed Chair in Childhood Literacy, a position created to address high illiteracy rates in the state and named for the first African-American in the New York Public Library System administration.
South Carolina colleagues have described Martin as a "dynamic leader" and someone with a "deep understanding of what it takes to produce a reader." Along with her Ph.D. in Children's Literature and Composition, the high-energy outdoorswoman holds a master's degree in Outdoor Teacher Education. She has taught swimming and bicycle spinning, and is a Gold Award Girl Scout, the top achievement in the organization, focused on community service. Her 13-year-old daughter is already a Bronze Girl Scout, and both her parents were Scout leaders in South Carolina.
Her combined love of the outdoors and children's literature led her to spearhead a literacy immersion program in 2001 called "Read-a-Rama," a summer day camp for 4- to 11-year-olds that moves among churches, libraries, and community centers with high populations of low-income children, who often suffer significant academic "slide" during summer months, and among schools with low reading proficiency levels.
Read-a-Rama, staffed largely by Martin's university students, centers fun activities like fishing and insect investigations around a book's theme. If the book is "Wet Dog," about an overheated dog looking for water, camp may be a "splash week" that includes swimming, visits to a water park, lessons on the properties of water, and splatter art projects with watercolors. Songs, chants, movement, and games also revolve around the theme. Children learn to "live" books.
"Our mantra is '100 percent engagement, 100 percent of the time,'" she says. "And 'Dead time will kill your program.'"

Martin plans to expand the program to the Northwest, and eventually take it national. "I can see it doing well everywhere from Native American reservations to the Broadview public library in my neighborhood," she says.
Martin is a strong believer in the power of the book, even in an age of glowing screens and binging distractions. Nothing, she maintains, can captivate an audience like a well-told story. Not TV. Not computer games. How do you convince kids of that? "You read to them," says the professor.
And in a country where more than 40 percent of children are non-white, the more diverse the books you read, the more powerful the impact. Martin cites an analogy coined by African-American children's literature scholar Rudine Sims Bishop. "Children need mirrors, windows, and sliding-glass doors. Mirrors to see themselves. Windows to see how other people live. Sliding doors to have vicarious experiences that will make them think more broadly about the world."
Adds Martin: "If you only read about people who look like you and live like you, what a small world you live in."