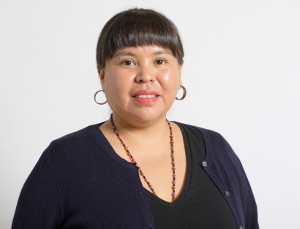 Clarita Lefthand-Begay is an environmental health scientist who cares deeply about upholding tribal sovereignty and self-determination. She has spent her career working on water-security issues facing tribes.
Now, she's bringing her talent as a researcher and expertise in indigenous knowledge systems to the iSchool as an assistant professor. Lefthand-Begay was hired as part of the school's Native North American Indigenous Knowledge initiative, which intends to raise the level of discourse about Native American communities' knowledge while maintaining the highest respect for tribal rights.
Lefthand-Begay, who was previously an acting assistant professor in the UW Department of American Indian Studies and earned her doctorate from UW's School of Public Health, adds a powerful set of skills to the school, said Dean Harry Bruce.
"The iSchool has faculty that represent a broad range of disciplinary backgrounds," Bruce said. "Clarita's background in the health and environmental sciences is a unique but tremendously important addition to the repertoire and expertise of the iSchool."
Bruce said he appreciates Lefthand-Begay's expertise in both indigenous research methods and Western scientific research methods, and that she has a commitment to drawing those two ways of knowing about the world closer together.
She's looking forward to collaborating with other researchers at the iSchool to find new ways to use those tools and move her own research forward.
Throughout her work, Lefthand-Begay maintains a strong focus on supporting communities' efforts to strengthen their culture, enhance well-being and protect their homelands.
Lefthand-Begay is interested these communities' ongoing research overlaps with information science. She has specific interest in three areas. First, she'd like to study how communities access scientific information and how these data are communicated to Native community members. Second, she wants to look at how they use policies to protect and share their cultural and intellectual properties. Finally, she'd like to work on effective ways to communicate data using information visualization tools.
As a scholar in the Native community, she is impressed with the work that Cheryl Metoyer, an iSchool associate professor emerita, has done throughout her career. Lefthand-Begay hopes to build on that work and investigate how data, knowledge and information are considered and perceived in tribal communities.
Ultimately, she hopes to use information science tools to empower her own work and to collaborate with communities and tribal nations. 
Lefthand-Begay, who is a citizen of the Diné Nation in Arizona, has a strong foundation working with tribes, said Bruce.
"She has a record of commitment and advocacy in the area of tribal sovereignty, which aligns terrifically with our initiative on Native North American indigenous knowledge," Bruce said. "She is already a trusted presence and trusted ally to tribal communities in the Northwest and she has had a background of research and teaching on tribal lands. Her presence in the iSchool speaks to our commitment to strengthen relationships with the Native communities in the Northwest and across North America."
Lefthand-Begay will teach Indigenous Systems of Knowledge at the iSchool, adapting the class to make use of her own expertise and interests as a researcher and professor. She is also developing a class that will examine federal and tribal policies around the use and protection of Indigenous Knowledge Systems, and cultural and intellectual property. 
Bruce emphasized that it's extremely important for native students to feel welcome and comfortable and the iSchool and UW.
"Clarita is a scholar and researcher of Native background. And that is tremendously powerful," Bruce said. "There are very few native faculty on the University of Washington campus.
Lefthand-Begay said she appreciates that the iSchool is being strategic in how it grows, and is encouraging new students and faculty who bring in new ideas.
"I appreciate the iSchool community's commitment to addressing the needs and interests of the indigenous peoples in the United States," she said. "Native communities are in a dynamic space of healing from centuries of institutional abuse. And they are doing so with beauty and grace. I am delighted to be here to support the iSchool's commitment by helping to create a space where Native systems of knowledge are valued and not seen as inferior to other knowledge systems. I look forward to working collaboratively with my colleagues, students and community partners."