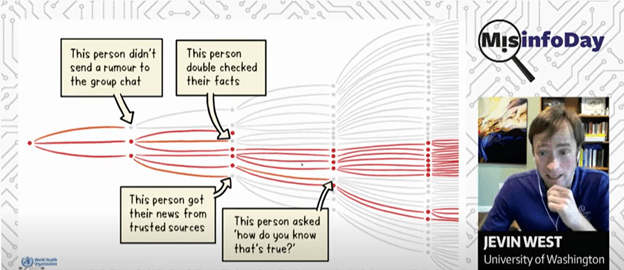 More than 1,000 middle and high school students, teachers and educators from across Washington state and the nation participated in MisinfoDay 2021, a series of virtual workshops on March 18 where facilitators explored strategies for spotting misinformation, fact-checking claims and sources, better understanding the landscape of information disorder and the goals and tactics used by those who spread disinformation. 
MisinfoDay, first hosted by the University of Washington Information School in March 2019, is now organized and presented in partnership with UW's Center for an Informed Public and Washington State University's Edward R. Murrow College of Communication. Due to the COVID-19 pandemic, last year's planned in-person MisinfoDay event was canceled, but with an all-virtual format for 2021, the misinformation awareness and educational programming from this year's MisinfoDay reached a wider audience, including more than 1,000 students and educators across Washington and other states, including Florida, Georgia, Illinois, New Jersey, Oregon, Tennessee and South Carolina. 
"Nothing is more important than having us, all of us, on the internet not share" false and misleading content as much as possible, said CIP director Jevin West, an associate professor at the UW iSchool, during his Spotting Misinformation workshop. "We always say 'Think more, share less,'" West said, showing a World Health Organization infographic showing how misinformation can quickly spread. "If we do a little less sharing and a little more thinking, we can truly start having an effect" on curbing mis- and disinformation online.  
Amid the ongoing COVID-19 pandemic and other tumultuous events — including the 2020 U.S. elections and the mob violence at the U.S. Capitol on Jan. 6 — that have brought uncertainty and confusion to our information environments, educators and others have been acutely interested in how they can improve information literacy, fact-checking skills and classroom lessons to better prepare students and others to resist mis- and disinformation.
See the full roundup of MisinfoDay 2021 on the Center for an Informed Public's website.
Watch the MisinfoDay workshops