Tuesday, April 27, 2021 | 3 - 5 PM
Online

Toward Combating Misinformation and Disinformation
iAffiliates Day 2021 seeks to further the conversation around mis- and disinformation through a "World Cafe" interactive discussion format involving iAffiliates and iSchool faculty and students.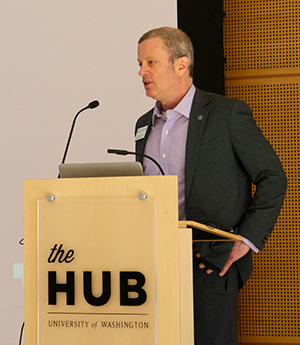 The COVID-19 pandemic and 2020 U.S. presidential election have both demonstrated in no uncertain terms the importance of having reliable information. After all, how can we know the best ways protect ourselves from a dangerous virus if we don't know whose advice to follow or what information to trust? Similarly, voting in a democratic election requires accurate information about candidates and voting processes, if those are disrupted through the spread of mis- or disinformation, the integrity of elections is at stake.
These are not isolated problems, and it has become increasingly clear that all members of society need to play a role in combating the spread of misleading information. Not only is it important to prevent negative consequences, but reliable data and information are among our most valuable global resources when used prudently. These resources have the capability to positively transform organizations, societies and lives. Complex problems can be solved, innovations developed, diseases cured, global health and other vital social issues addressed.
It is clear, then, that in order to move forward we need to find ways to work against the spread and amplification of mis- and disinformation. The question becomes: how can we combat mis- and disinformation so that people at every level of society have the tools they need to make accurately informed decisions?
Through initiatives like the Center for an Informed Public, the UW iSchool is proud to be at the forefront of this movement. The consequences of information integrity have never been higher, and we are working closely with our iAffiliates partnership base to understand and combat mis- and disinformation while influencing and promoting the spread of accurate information. Together we are ensuring that the greater good of society remains in the fore as organizations strive to empower their members at all levels to better identify and leverage reliable information to solve problems and make prudent decisions.
Schedule
3-3:30: Welcome and Introduction
3:30 - 3:45: Breakout room 1
3:45 – 4:00: Breakout room 2
4:00 - 4:15 Breakout room 3
4:15 - 4:30: Breakout room 4
4:30 - 4:50: Report out and discussion
4:50 – 5:00: Final Remarks
Breakout room themes
Learn more about the breakout rooms and table hosts.
Role of Private and Public Sectors in Mitigating Mis- and Disinformation

What is the role of public and private sector organizations in managing misinformation?
How can sectors align their efforts to complement one another?
Misinformation and Disinformation as a Cybersecurity Threat

Should strategic disinformation campaigns be considered cyberattacks? What role might cybersecurity experts play as disinformation evolves (deepfakes, etc.)? Can it fall just on them?
What form might future strategic disinformation campaigns take and what is the potential impact of those campaigns if they go unchecked?
What is the societal impact of strategic disinformation campaigns and how can cybersecurity firms work against them? Should they?
Balancing Right to Free Speech with Regulation of Mis- and Disinformation

What is the relationship between free speech and control of misinformation?
Where does our right to free speech end and society's interest in accurate information begin?
What does this balance look like in the workplace, at home, or in educational institutions?
COVID-19, Vaccines, and the Cost of Misinformation

How has misinformation about COVID-19 complicated decision making around how to work remotely and knowing when to return to in-person work?
How can public and private organizations work to support reliable decision making in future global crises, medical or otherwise?