i

School Research Symposium: Lisa Nathan
Monday, January 27, 2020 | 12:30 - 1:20 PM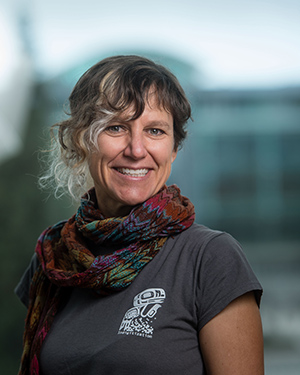 Changing Course: Information Schools & Our Climate Crisis
Early 21st century climate forecasts suffered from overstated optimism and understated threat levels. Through this talk, Lisa Nathan will ask you to join her in acknowledging the existential threat to humanity posed by our rapidly changing climate. Despite what we read in Wired magazine or Communications of the Association for Computing Machinery (ACM), this is not a problem to be solved by more powerful computing systems or ever-greater access to information. We already have spectacular computing power and mind-numbing amounts of information. What we lack is the humility to live within the limits of our planet's ecosystems. As communities face catastrophic wildfires, record smashing windstorms, and devastating droughts, how do we shift from solutionist tropes to aspirations of adaptation?  What is the responsibility of Information Schools in supporting community resilience?
Lisa Nathan is an associate professor at University of British Columbia's School of Information.  She teaches courses on Indigenous information initiatives, information ethics, information practices, and information policy. Her scholarship contributes to discussions in the fields of Design, Human Computer Interaction, Archival Studies and Information Studies. She co-edited the book Digital Technology and Sustainability: Engaging the Paradox with Mike Hazas. She holds a Ph.D. from University of Washington's Information School.
View online via Zoom: https://washington.zoom.us/j/944666274
To RSVP, email Mallory Shaw, Research Development Coordinator, at mdshaw87@uw.edu.