Ed Mignon Distinguished Lecture: Tressie McMillan Cottom
Tuesday, April 13, 2021 | 4 - 5 PM
Online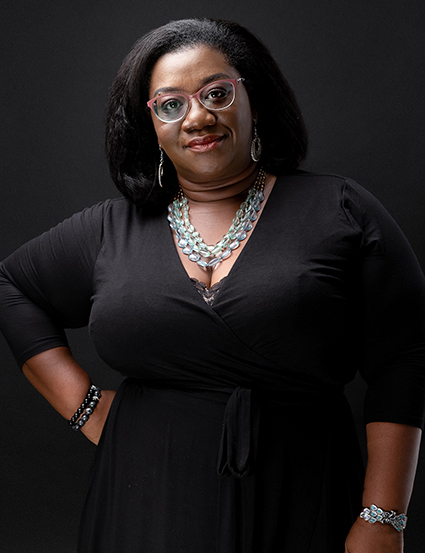 Join us for the 8th annual Ed Mignon Distinguished Lecture with our special guest, Dr. Tressie McMillan Cottom, for her talk, "The Future of Education."
Tressie McMillan Cottom, Ph.D., is an associate professor in the iSchool at the University of North Carolina-Chapel Hill, Senior Research Fellow at the Center for Information, Technology and Public Life (UNC) and Harvard's Berkman Klein Center, and a 2020 MacArthur Fellow. Audiences and institutions have lauded her work for its incisive analysis and impact. Her current research examines racial capitalism in platform economies and what she calls "hustleprenuership." From her award-winning essay collection Thick (National Book Award finalist, 2019) to the critically acclaimed Lower Ed, McMillan Cottom shapes the discourse to change the narrative.
The foundation for Dr. McMillan Cottom's first book, Lower Ed: The Troubling Rise of For-Profit Colleges in the New Economy, was formed by dissertation research for her doctorate from Emory University's Laney Graduate School. In Lower Ed, Tressie questions the fundamental narrative of American education policy. Carol Anderson calls Lower Ed, "nuanced, carefully argued, and engagingly written."
Dr. McMillan Cottom's 2019 collection Thick: and Other Essays has been described as "essential," and the Chicago Tribune calls Dr. McMillan Cottom, "the author you need to read now." Dorothy Roberts compares reading it to "holding a mirror to your soul and to that of America." Thick was the winner of the Brooklyn Public Library Literary Prize and was a finalist for the 2019 National Book Award.
In 2020, Dr. McMillan Cottom was named a MacArthur Fellow. The MacArthur Foundation says her work, "combines analytical insights and personal experiences in a frank, accessible style of communication that resonates with broad audiences within and outside of academia."  Tressie also co-hosts Hear to Slay with Roxane Gay, a podcast with an intersectional perspective on celebrity, culture, politics, art, life, love, and more.
The Ed Mignon Distinguished Lecture in Information Science is named for an alumnus and former faculty member of what is now the iSchool. He passed away in January 2012. The lectureship is made possible by a gift from Molly Mignon, wife of Ed Mignon. The purpose of the fund is to provide support for an annual lecture by a distinguished speaker on a topic of interest in the field of information science. Speaker topics may be related to current events, policies, controversies, or issues in the information and technology fields. Our goal is to inspire original thinking and foster creativity among students, faculty and researchers at the Information School.