i

School Research Symposium: Tonia Sutherland
Monday, October 19, 2020 | 12:30 - 1:20 PM
Online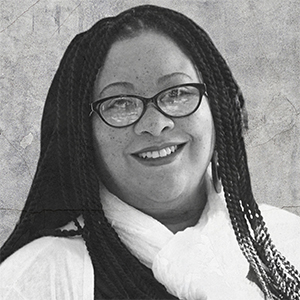 "Speaking for the Dead: The Memorial Politics of the Digital Afterlife"
This talk considers the sociocultural tensions created by the proliferation and circulation of digital records associated with the deaths of Black people in the United States. Engaging questions at the intersection of archival studies and digital studies, Dr. Sutherland challenges the narrative that Black people's lives are disposable and interrogates the ways that Black afterlives have been appropriated, politicized, and commodified from the era of chattel slavery to the present. 
Sutherland calls attention at each turn to the emotional agency of images; the impulses, ethics, and consequences of digital resurrection practices; the human fight against the silence and erasure of historical oblivion; and unique assertions of Black digital sovereignty and digital rights of refusal. In this talk, Sutherland examines marked tensions and liminal spaces—between past and present, between memorialization and commodification, and between digital permanence and historical oblivion.
Dr. Tonia Sutherland is assistant professor in the Department of Information and Computer Sciences at the University of Hawaiʻi at Mānoa. Global in scope, Suther­land's research focuses on entanglements of technology and culture, with particular emphases on critical and liberatory work within the fields of archival studies, digital studies, and science and technology studies (STS). Sutherland's recent work interrogates race and gender in archival and digital spaces, critically examining the analog histories of modern information and communication technologies and addressing trends of racialized violence in 21st century digital cultures. More broadly, Sutherland focuses on various national infrastructures — technological, social, human, cultural — addressing important concerns such as gaps and vagaries; issues of inclusivity and equality; and developing more liberatory praxes. Sutherland is the author of Digital Remains: Race and the Digital Afterlife (forthcoming from UC Press). Sutherland is the Director of the SOURCE Hawaiʻi Research and Community Engagement Lab at the University of Hawaiʻi at Mānoa. She is also a founding member of the AfterLab Collaboratory housed at the iSchool at the University of Washington; a faculty affiliate of the Center for Critical Race and Digital Studies at New York University; and a member of the UCLA Center for Critical Internet Inquiry (C2i2) Scholar Council. Sutherland holds a PhD and an MLIS from the University of Pittsburgh's School of Computing and Information (formerly the School of Information Studies), and a BA in history, performance studies, and cultural studies from Hampshire College.