Critical Pedagogy Summit
Saturday, December 2, 2017 | 9 - 5 PM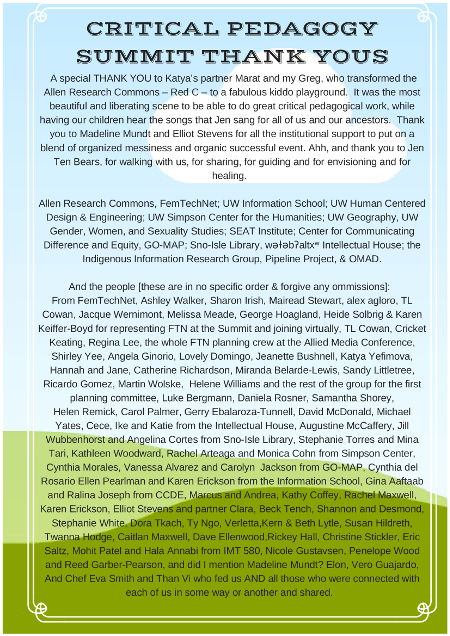 The Critical Pedagogy Summit produced a strong statement in support of Net Neutrality:
***
Critical Pedagogy is a teaching approach that helps students question and challenge domination and the beliefs and practices that dominate them.
It is Social Justice + Education. 
The Critical Pedagogy Summit is coming together to co-teach and co-learn. It is distributed, open & collaborative. The summit is intended to meet the needs of digital interdisciplinary scholarship and practices. (View poster.)
Schedule
Friday, Dec. 1
Envisioning and writing, by invitation only.
"Envisioning is "an indigenous strategy to effectively bind people together politically in asking us to imagine a future." (Smith, 1999, p.152)
"Indigenous people are writing. Writing is employed in a variety of imaginative, critical and also quite functional ways." (Smith, 1999, p.149)
Saturday, Dec. 2
The event takes place from 9 a.m. to 5 p.m. at two locations:
9 a.m. – 1 p.m.
UW Allen Research Commons
Goal: Connecting, Networking & Sharing
Open to the public – preregistration required
Refreshments and snacks will be available during the morning session.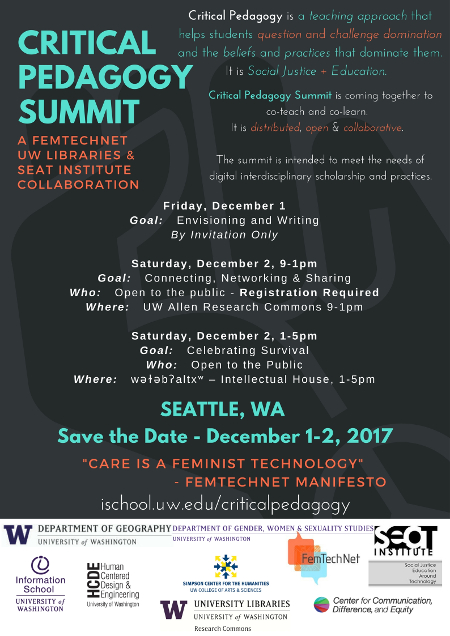 "The importance of making connections and affirming connectedness has been noted also by other minority group researchers. Connectedness positions individuals in sets of relationships with other people and with the environment." (Smith, 1999, p.148)
"Networking has become an efficient medium for stimulating information flows, educating people quickly about issues and creating extensive talking circles. Building networks is about building knowledge data bases which are based on the principles of relationships and connections." (Smith, 1999, p. 156)
"Sharing knowledge between indigenous peoples, around networks and across the world of indigenous peoples. Sharing contains view of about knowledge being a collective benefit and knowledge being a form of resistance." (Smith, 1999, p.160)
1 p.m. – 5 p.m.
wǝɫǝbʔaltxʷ Intellectual House
Goal: Celebrating Survival
Open to the public
A light lunch snack including vegetarian and gluten-free options will be provided at 1 p.m.
"Celebrating survival is a particular sort of approach. Celebrating survival accentuates....the degree to which indigenous peoples and communities have successfully retained cultural and spiritual values and authenticity. (Smith, 1999, p.145)
Collaborate
Sponsors
FemTechNet; UW Information School; UW Human Centered Design & Engineering; UW Simpson Center for the Humanities; UW Geography, UW Gender, Women, and Sexuality Studies; SEAT Institute; Center for Communicating Difference and Equity.
Contact: Ivette Bayo Urban: ibayo@uw.edu