Research Symposium: Leila Janah
Wednesday, October 18, 2017 | 2:30 - 4 PM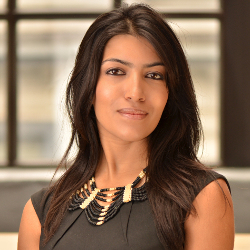 "Give Work: How to end global poverty using business practices and information technology"
Leila Janah founded Samasource with the mission to move people out of poverty by connecting them with digital jobs. Samasource pioneered the concept of impact sourcing, and now provides cutting-edge data work, including image annotation to build training data for machine learning, data enrichment, content services, and more, for companies like Microsoft, TripAdvisor, Google, and Walmart. Samasource proves the concept that tech advances don't need to leave behind those without opportunity, and that advances in AI can actually create jobs. In her upcoming book, Give Work, Leila describes how companies can do business better by deepening their impact and including economic diversity in their supply chains to move the needle on global poverty.
Janah is a Harvard-educated former management consultant. She has been profiled in the New York Times, Fast Company, Wired, Forbes, Glamour, Real Simple, and Inc. She was named one of Fortune's 40 Under 40 in 2017, Condé Nast's Daring 25 and Elle's 2016 Top Women in Tech.
This event is co-sponsored by the iSchool, the DUB group, and the Paul G. Allen School of Computer Science & Engineering.