The MED Project: A Microbial Ecology Sample Tracking System
Project tags:
database administration & development
software development
ux & interaction design
Audience Choice Award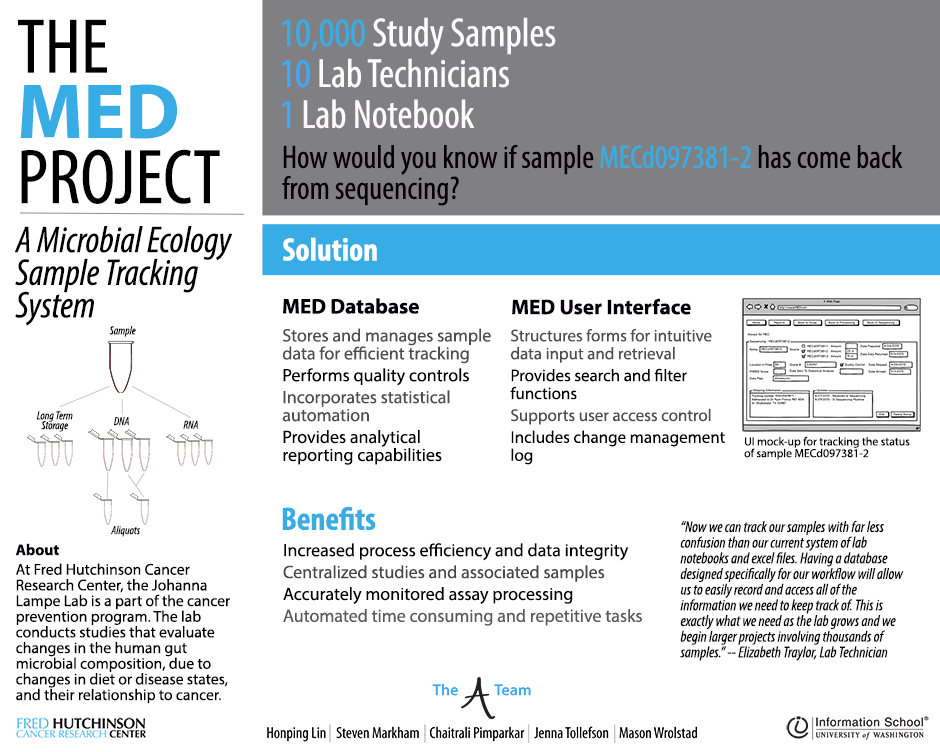 The J. Lampe Lab at Fred Hutchinson Cancer Research Center currently uses a manual organizational model to manage thousands of samples that is prone to data loss and human errors. The lab is a part of the cancer prevention program and conducts multi-million dollar research studies that evaluate changes in human gut microbial composition from variations in diet or disease states. These studies necessitate an effective system that supports the tracking of these samples through various stages of analyses. We created the MED Project to address these limitations and provide complementary features that will increase process efficiency, in addition to retaining data integrity. The solution integrates an adaptive database system with a user interface designed for lab technicians to intuitively record and retrieve sample metrics. The database incorporates statistical automation, quality controls, and analytical reporting, while the front-end structures forms for accessible data input and manipulation. The implementation of this product provides the lab with a system that centralizes all studies and associated samples, accurately monitors assay processing, and automates time consuming, repetitive tasks.
Project participants:
Chaitrali Pimparkar
Informatics
Mason Wrolstad
Informatics
Jenna Tollefson
Informatics
Steven Markham
Informatics