Ph.D. student profile: Amanda Menking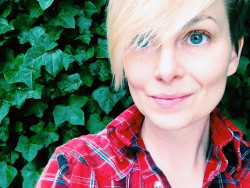 Amanda Menking is a Ph.D. candidate specializing in computer-supported cooperative work.
When you meet someone who doesn't know about your research, how do you describe it?
I begin by asking, "Do you use Wikipedia? Did you know it's written primarily by young, white men?" The conversation generally takes off from there. 
Who is the faculty member working closest with you? What are you learning from him/her?
I work with both David McDonald in HCDE and Wanda Pratt in the iSchool. Though David and Wanda have similar backgrounds — and have, in fact, collaborated on several projects — they each contribute unique skills and domain expertise to my research. From David, I've learned the value of careful, deliberate research. He has modeled both patience and perseverance. Whether it's interrogating research questions or re-asessing data, David has helped me to think carefully about my own biases and the methods I choose to use. From Wanda, I've learned the value of being pragmatic and strategic. Whether it's recommending a great newsletter or helping me to set daily writing goals or aligning my publications with my intended career path, Wanda has helped me to make good choices that are in line with who I am and what I want.
Why are you interested in this subject? 
Wikipedia is one of the most popular websites in the world and, consequently, an incredibly influential information source. Not only do millions of people use it, but the information in Wikipedia populates other information sources, such as Google search results. So, on one level, understanding Wikipedia is pretty important to understanding online information in general. On another level, a lot of the work that has been done thus far about Wikipedia's "gender gap" has been quantitative in nature and has positioned the gap as a "woman problem": Women don't have the technical and/or internet skills; women don't have as much discretionary time; women don't like conflict and criticism. I'm interested in understanding why women do contribute to Wikipedia — why they stay. I'm also interested in reframing the "gender gap" in a way that recognizes systemic bias and situates the phenomenon within the greater context of patriarchal systems rather than as a lack in women.
What impact do you hope to make in the information field through your research/dissertation?
I hope the findings from my research prompt people in all fields to consider the ways in which systemic bias impacts the kinds of information they not only encounter but also the kinds of information they generate and curate.
What surprised you the most when digging into your research?
When I began interviewing women Wikipedians in 2015, I was shocked to learn some women editors had not only been harassed on Wikipedia, but had also received rape and death threats for their work. We often think of online harassment as being the exception rather than rule, or as occurring on social media sites like Twitter, but online harassment is far more prevalent and insidious than that. I've also been surprised — and humbled — by the generosity, kindness, and tenacity of the women I've interviewed. 
What are your career goals once you graduate? 
Before my Ph.D., I taught both high school and community college. I am, at heart, a teacher. My goal once I graduate is to pursue a job in academia — balancing my passion for teaching with my desire to do meaningful research.