Earn your Ph.D. at the UW
i

School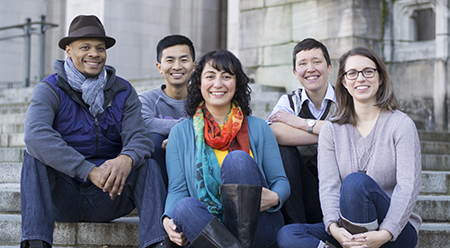 The University of Washington Information School seeks outstanding students to join our Ph.D. program for the 2021-22 academic year.
We particularly seek students who are interested in focusing on:
Data Science
Digital Youth
Health and Well-Being
Human Computer Interaction
Information and Society
Learning Sciences
Library and Information Sciences
Native North American Indigenous Knowledge
Problematic Information: Misinformation and Disinformation
Sociotechnical Information Systems
Learn more about iSchool research on our Research Areas page, and see our list of faculty who are eligible to advise doctoral students.
About the iSchool: The Ph.D. program in Information Science is a theoretical, research-based doctorate that focuses on creating and advancing new knowledge that will make a significant, positive difference. The UW iSchool's research focuses on understanding human involvement with information and its social and technological ramifications.   
Topics of faculty research expertise include: Archival Studies, Computational Social Science, Critical Information/Data Studies, Data Science, Digital Youth, Feminist Technoscience, Health and Environment,  History of Information, Human-Computer Interaction, Indigenous Knowledge Systems, Information and Data Ethics, Information and Society, Information and Communication Technologies for Development, Library and Information Science, Misinformation Studies, Science and Technology Studies, Sociotechnical Systems, and Tribal Libraries and Museums. Read more about our faculty and on-going research projects.
All applicants who are admitted to and enroll in the program receive guaranteed funding for at least four years. Funding sources may include a mix of fellowships, teaching or research stipends, and scholarships. Funding covers health insurance and pays stipends for hourly work (approximately 20 hours per week for fall, winter and spring quarters) according to the rates negotiated by the Union of Academic Student Employees.
How to Apply: The application deadline for the 2021 academic year is Dec. 1, 2020. Learn about admissions and requirements.
Prospective students who wish to be considered for fall 2021 admission are strongly encouraged to contact individual faculty members for information about their research programs and your interest in the doctoral program. Many faculty have information for new students on their directory pages.
More Information: You can also interact directly with admissions staff in one of the following virtual events:
View the Ph.D. program brochure.
Contacts: If you have further questions, please feel free to contact Kari Brothers (iask@uw.edu), the iSchool's Admissions Counselor and Assistant Director of Student Services. You may also contact our Diversity Programs Advisor, Cynthia del Rosario (cyn@uw.edu), with questions about our mission to encourage students from underrepresented backgrounds to apply.