Gennie Gebhart's job is far from simple. But she sums it up simply.
"I mostly yell at tech companies," she said. "When I really want to boil down my job description, I say, 'I make my living yelling at any tech company that is not standing by its users in any number of ways.'"
Gebhart is this year's recipient of the Graduate of the Last Decade (GOLD) Alumni Impact Award, which celebrates recent graduates for their contributions to the information field. Gebhart is the activism director at the Electronic Frontier Foundation (EFF), a nonprofit that defends civil liberties in the digital world. She graduated from the iSchool's Master of Library and Information Science program in 2016.
"I applied to the iSchool intending to be a librarian in a library, and then all the experiences I had made me want to be a librarian outside of a library."
Gebhart's interest in the iSchool began while she was an undergraduate at the University of Washington, where she majored in international studies and economics. She worked in various libraries, which she loved, and it got her excited about librarianship.
At that time, she learned about the idea of open access — the free and open availability of scholarly work — and wanted to see the UW create an open-access policy. She and a friend began working toward that goal and saw some big wins before they graduated. Others carried on the work, and the university now has an open-access policy.
Gebhart earned a graduate fellowship to work in libraries in Laos and Thailand. She was living in Thailand in May 2014 during a military coup. It made her think about digital information differently.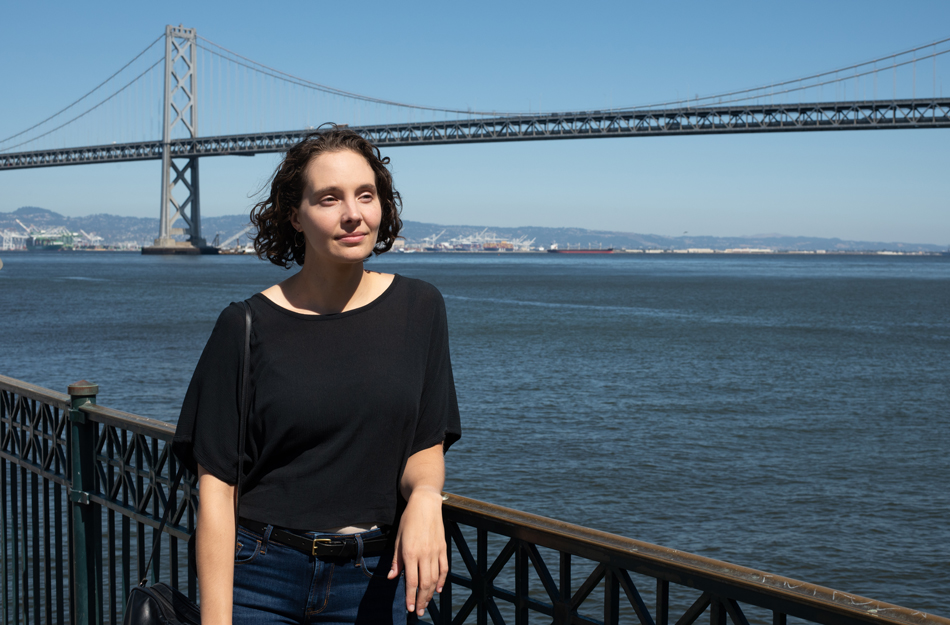 "I went from a naïve access professional to learning about the perils of information and the internet," she said. "I was seeing censorship and surveillance firsthand in a way I never had, including censorship of my friends."
The experience gave her a new perspective as she pursued her MLIS.
"I applied to the iSchool intending to be a librarian in a library, and then all the experiences I had made me want to be a librarian outside of a library. I wanted to work on security and privacy and censorship," she said.
She appreciates how the iSchool has prepared her for her career, and that she was able to pursue her studies from the San Francisco Bay Area, where she's able to enjoy some of her favorite activities, including long-distance swimming, biking and volunteering for the San Francisco SPCA.
Gebhart joined EFF a few months after she earned her degree. EFF's work with digital rights in Thailand originally drew her to the organization. Once she learned more, she realized EFF was a place where her mishmash of skills — open access, privacy and security work, with a bit of net neutrality — made sense.
Yoshi Kohno, a computer science and engineering professor at the UW, nominated Gebhart for the GOLD award. Her wide range of skills, he said, are among her biggest strengths.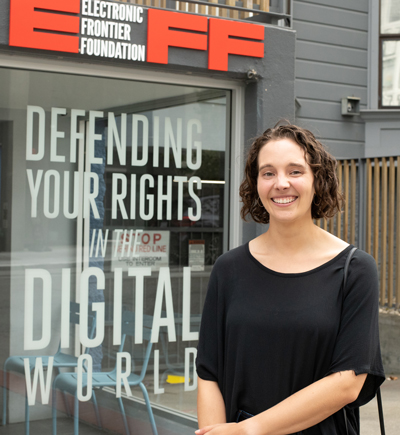 "She has incredible foresight and the ability to identify what are the key societal issues that need to be addressed," he said. "And she has the deep tech and policy knowledge to know how to actually make progress on addressing those issues. And she does an amazing job of getting stakeholders together to talk about important and challenging topics."
During her time at EFF, Gebhart has tackled a variety of issues, with a focus on tech giants, including Facebook, Google, Venmo, Twitter and Slack. A lot of her work has also focused on encouraging services such as WhatsApp and iMessage to provide encryption protection for users' communications.
Gebhart and her team helped convince Zoom to offer end-to-end encryption for all calls, not only for paid accounts. She also led EFF's work after the Cambridge Analytica scandal, which showed how user data was being used inappropriately, in particular to influence elections.
For the past two years, Gebhart has been managing a team of 14 people. She's quick to give her team credit, and she appreciates the professional challenge.
"Mostly, they make me look good while I get out of their way," she said. "I get these superheroes all the things they need to fly in formation."
Recently, Gebhart and her team have been dealing with the fallout from the Dobbs decision that overturned Roe v. Wade. One of the biggest threats EFF is seeing is what happens if law enforcement is tipped off about an abortion. Police may search a person's phone or submit a request to get texts, emails or browser search histories. Among other responses to those privacy concerns, Gebhart and her team are urging tech companies to minimize the data they collect, delete it quickly, and provide end-to-end encryption by default.
Gebhart said that sometimes her work can be overwhelming. But she notes that, while EFF is constantly on the defensive, it's also working toward a better future.
"We are working toward something, not just fighting against something," she said. "Surveillance capitalism is not inevitable. We built it and we could build it another way."
The GOLD award announcement came at a time when she felt she was in a bit of a slump.
"It was a perfectly beautiful email that ended with, 'We are so proud of you,'" she said. "It took my motivation way up. I am so grateful and so honored."
About the
i

School alumni awards

The Information School Distinguished Alumni Award recognizes alumni from the Informatics, MLIS, MSIM and Ph.D. programs who have made significant and exceptional contributions to the information field through their profession, to the community, or involvement with the University of Washington. This award acknowledges those who continue to uphold iSchool values by helping "others discover, learn, innovate, and solve problems" beyond their years at the UW.

New in 2022, the Graduate of the Last Decade Alumni Impact Awards (GOLD Alumni Impact Awards) celebrate recent graduates for significant contributions to the information field and/or their community. Paralleling the criteria used for the Distinguished Alumni Award, the GOLD Awards focus on alumni who have used their degree, expertise and professional position to make significant contributions to the information field and/or their community. Those nominees graduating within the past 10 years will automatically be considered for the GOLD Award.

The nomination period for the 2023 alumni awards will begin shortly after the new year. If you have questions, contact Kristyn Danson, iSchool alumni relations officer, at kdanson@uw.edu.