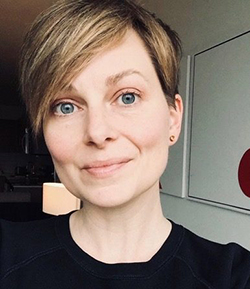 The University of Washington has named Amanda Menking the new Academic Director of its Master of Human-Computer Interaction + Design program. Menking, a 2019 iSchool Ph.D. alumna, will lead one of the top master's programs in this rapidly evolving field.
As a researcher, educator and veteran of Seattle's tech industry, she brings a balance of academic depth, intellectual rigor and industry experience that will ensure MHCI+D continues to be well-positioned to help graduates think critically about the increasingly important role designers play in our world today.
Menking is excited to help new designers and seasoned professionals alike meet their career goals while also challenging themselves as people. Given current world events, there is an especially urgent need for researchers and designers to recognize their role as gatekeepers, asking questions about the kinds of problems they choose to address and the impacts — both intended and unintended — of the products and services they create. Menking believes strongly that MHCI+D is well-positioned to foster the growth of resilient and thoughtful community members.
"I am thrilled to have the opportunity to be a part of MHCI+D. UW is a world-class institution, DUB is a strong, collaborative community made up of leading HCI scholars, and MHCI+D is a program supported by an incredible, caring team. It's a unique place and this is a unique time to be a part of this. I'm excited to work with alumni, staff, faculty, industry partners, and current and future students to help the program evolve. For example, how can we ensure our graduates are equipped to ask hard questions about ethics in tech? How can we make our program even more accessible and more inclusive?"
Menking steps into the successful framework originally led by Linda Wagner, the program's founding Director (who moved on to establish UW's Master of Technology Innovation), and expanded upon by the most recent director, Michael Smith (who returned to the design industry in 2019). Interim Director, Axel Roesler, from the UW School of Art + Art History + Design carried forward the momentum created by the previous directors and will stay on until the beginning of the next academic year to serve as a bridge for a successful hand-off to Menking.
"We are fortunate that Amanda is joining our program as the new director. I am excited to see her take MHCI+D into its next phase with the incoming Class of 2021," said Roesler.
The Master of Human-Computer Interaction + Design is offered by four departments: the Allen School of Computer Science & Engineering, Human Centered Design & Engineering, the Information School and the Division of Design in the School of Art + Art History + Design, along with faculty from other UW departments. These four units comprise the DUB (design: use: build) research group.